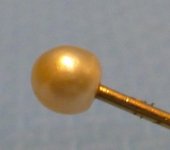 Hi All and especially kiwipaul,
It is just a coincidence but I came across what I believe to be a Poe Pipi on eBay yesterday. It is 5mm in diameter and looks to be a little deeper. This is one, when I get it, that I will be sending for certification first.
I haven't done a search on eBay for ages as I was trying not to spend but I think it was Paul's Poe Pipi that egged me on although unconsciously. I never expected to find one, never even thought about it. It was just a search and most of what I came up with was
either terribly expensive or rubbish. Just the luck of the draw or day.
I should imagine Paul's Pipi Ring being so large is worth a small fortune but even this little 5mm darling must be worth a reasonable amount. I love the look of it. Just hope it is close to the colour in the photo when I see it in the flesh.
Having trouble with attaching the photo so I am hoping it goes through
Dawn - Bodecia
http://www.ebay.com/sch/dawncee333/m.html
eBay Seller ID dawncee333 Natural pearl collector & seller. And all round pearl lover.