Hong Kong is, without a doubt, an amazing city. It's filled with diversity in people, food, architecture, fashion and night life. And most fascinating from my viewpoint, it is filled with pearls.
Hong Kong brims with offices where pearl deals are made throughout the year. Wholesalers and large retailers come from around the world to fill their inventory with every pearl type and quality. But the epicenter of Hong Kong pearl activity is the world-class show sponsored by UBM Asia - the Hong Kong Jewellery & Gem Fair. It is so large that it is split between two venues, AsiaWorld-Expo and the Hong Kong Convention & Exhibition Centre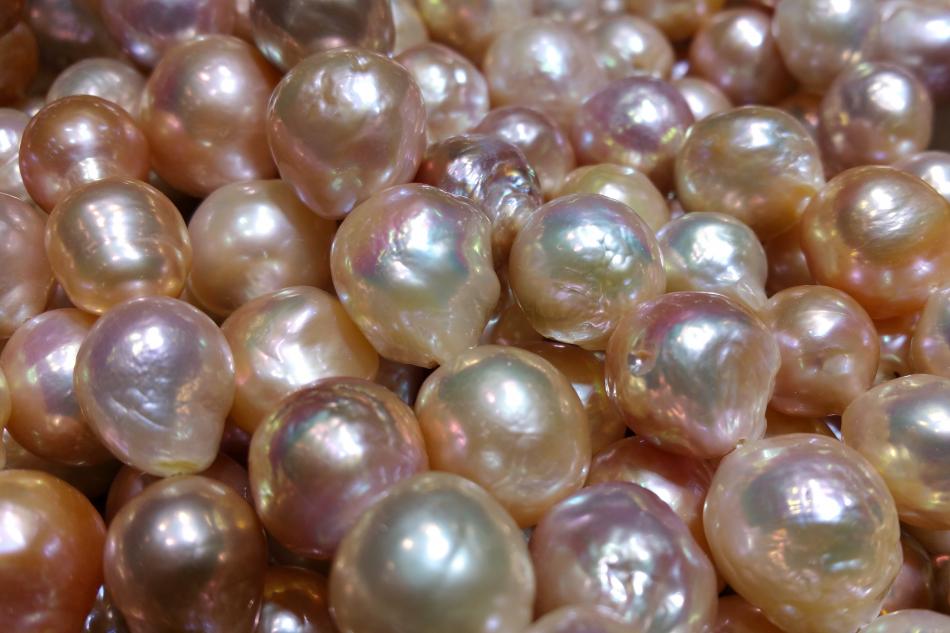 Chinese Cultured Freshwater "Ripple" Pearls.
These venues are both staggeringly large, so visiting the shows and enjoying Hong Kong can require enormous stamina. It's potentially exhausting, but also incredibly stimulating and should be on every jewelry industry person's bucket list.
The venue logistics are superbly managed with no shortage of easily understood signs and helpful convention hosts. There were entrance lines, but they generally moved quickly. Considering that 57,600 people attended last September when I did, the services were excellent.
Getting to AsiaWorld Expo by the AsiaWorld Expo/Airport Express train was a dream of convenience, right down to free Wi-Fi. The fact that the train originates at the airport made the trip to the hotel in Kowloon very easy. The train continues all the way into downtown Hong Kong, making it easy to meet friends for drinks after the show. Generally, all of the public transit is great. You won't want to miss a chance to take the ferry and see the harbor or go farther afield and take a day excursion to Macau by the turbojet ferry.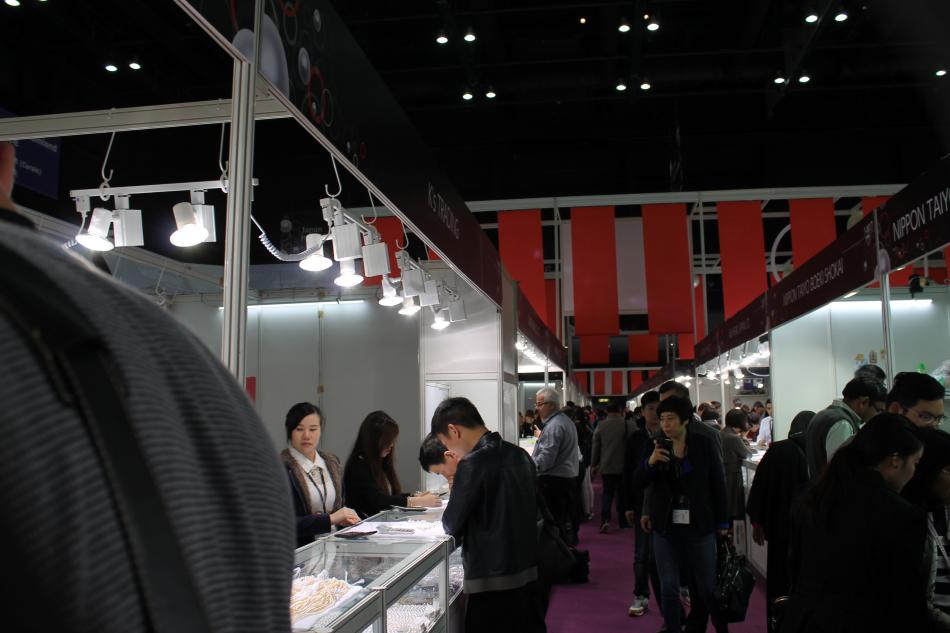 Buyers hard at work in the pearl pavilion
AsiaWorld Expo has the raw materials (loose gems) and the Hong Kong Convention & Exhibition Centre has the finished jewelry. And what finished jewelry! Not just spectacular pearl jewelry, but some of the finest, largest and most creative diamond and gemstone jewelry that the imagination can conceive. That said, I spent most of my time where I really belonged at AsiaWorld Expo, where I followed two pearl sellers who were filling orders and looking for special items.
Upon entering the pearl pavilion, I was overcome by the sheer size of the hall. If you can't find the pearl you want in this show, it might not exist, the selection is that extensive. The pearl pavilion had areas with small booths specializing in high end goods, running all the way to extensive showrooms with private rooms and large interior areas with tables for selecting and evaluating pearls.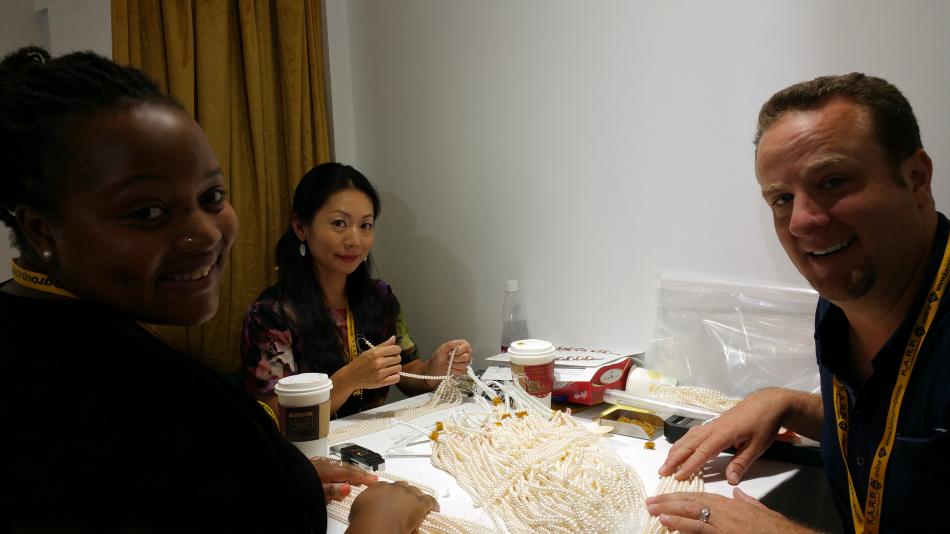 Above, you can see Chenai Nezungai, Hisano Shepherd and Jeremy Shepherd selecting cultured freshwater pearls for
PearlParadise.com
. They work in a private room inside the vendor's showroom. Every strand of pearls is individually examined by the team. Pearls that don't meet their standards are separated and later removed from the hanks.
Because they purchase in volume, the sorting can take several days and involve thousands of strands of pearls. They also must replenish their inventory of earring and pendant pearls and akoya, Tahitian and South Sea saltwater cultured pearls.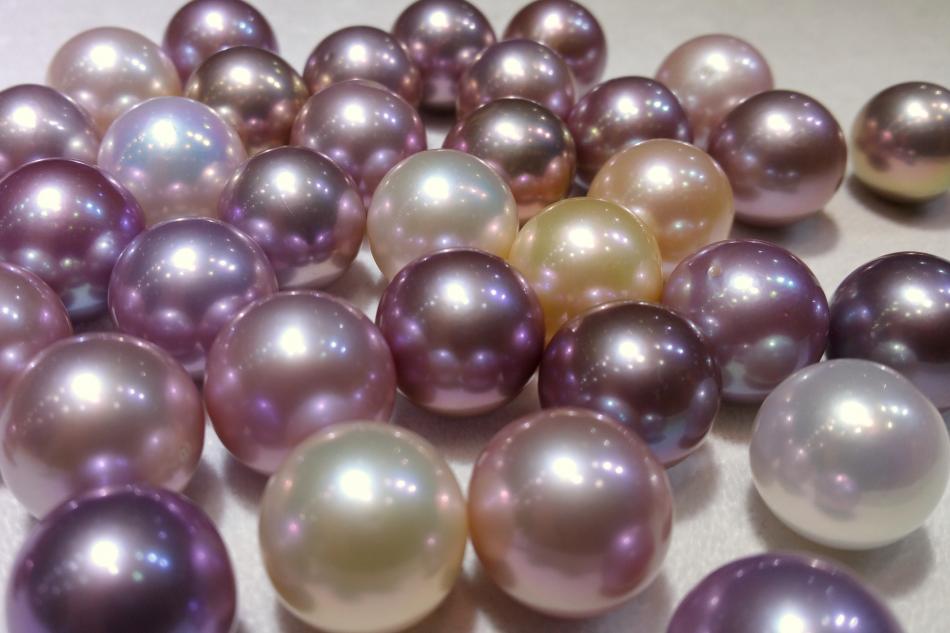 These "Edison" cultured freshwater pearls in formerly unheard-of deep purple colors make the "chore" of browsing for pearls a pleasure.
The variety of colors and surface qualities on display made for interesting hunting. I saw some unusual large blue South Sea baroque cultured pearls. These pearls had much higher luster and translucency than I have seen in the past.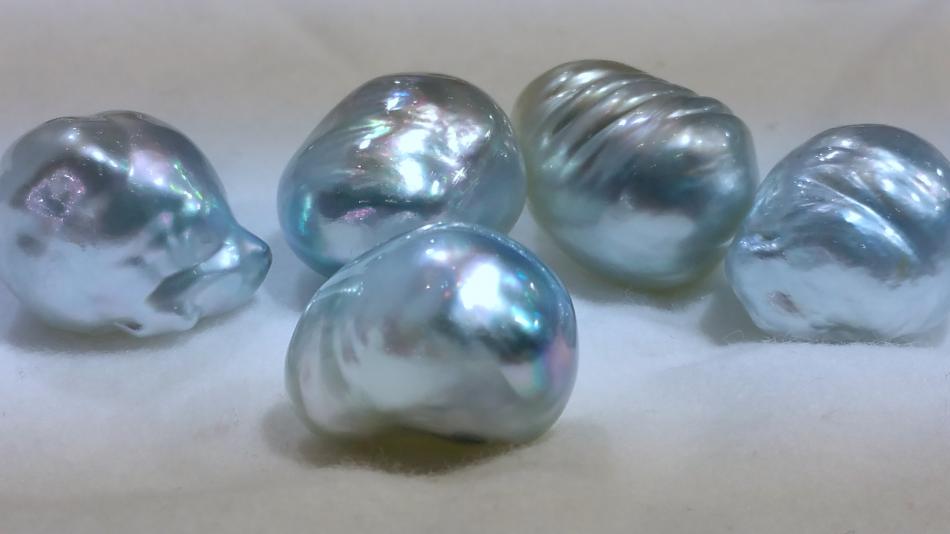 Radiant blue South Sea baroque pearls.
To get an idea of how many pearls are ready to go, here are some sacks of nucleated freshwater pearls, including ripple baroques and fireballs. These were just a tiny fraction of the inventory at one vendor.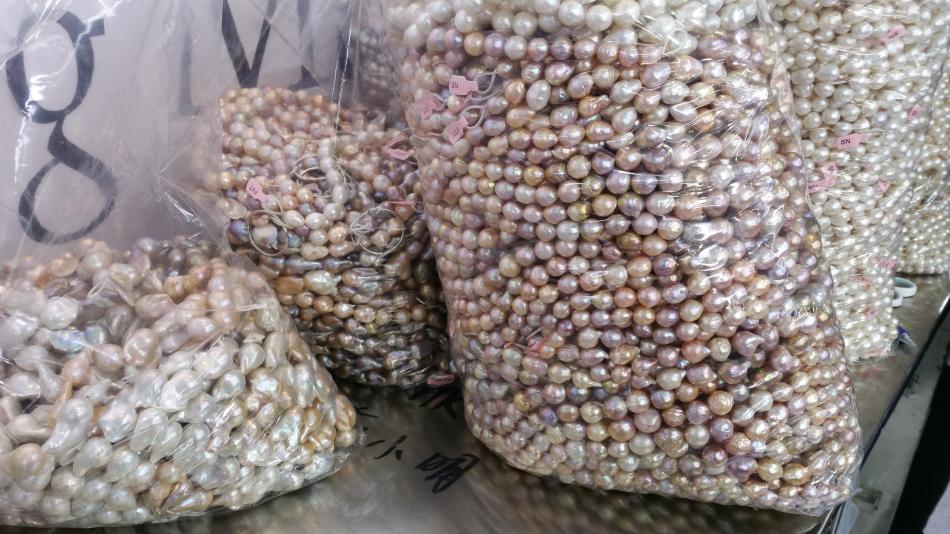 It is best to visit the show with a plan, because time passes quickly whenever you stop to evaluate and choose pearls. Go through the showroom first to get an idea of your choices. This will help you narrow down the vendors you want to pinpoint for purchases.
Here I am below, armed with reading glasses, inspecting individual high-end pearls.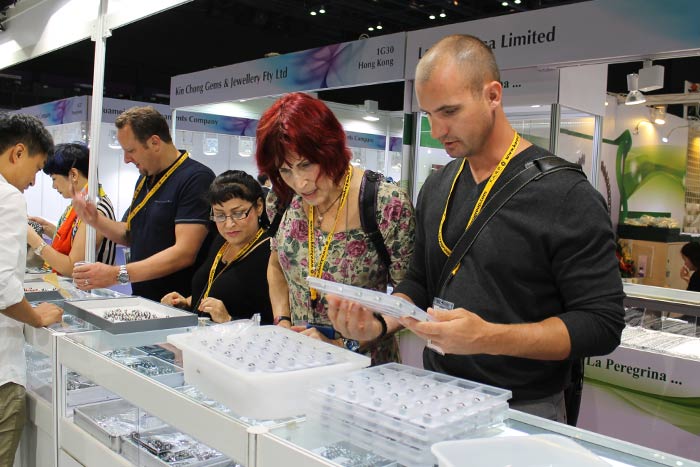 Outside of the shows, everyone's favorite activity was sampling the fabulous food. Hong Kong is a great place to eat Dim Sum, if not the best place in the world. Soup dumplings were my favorite. The ones below were topped with rice.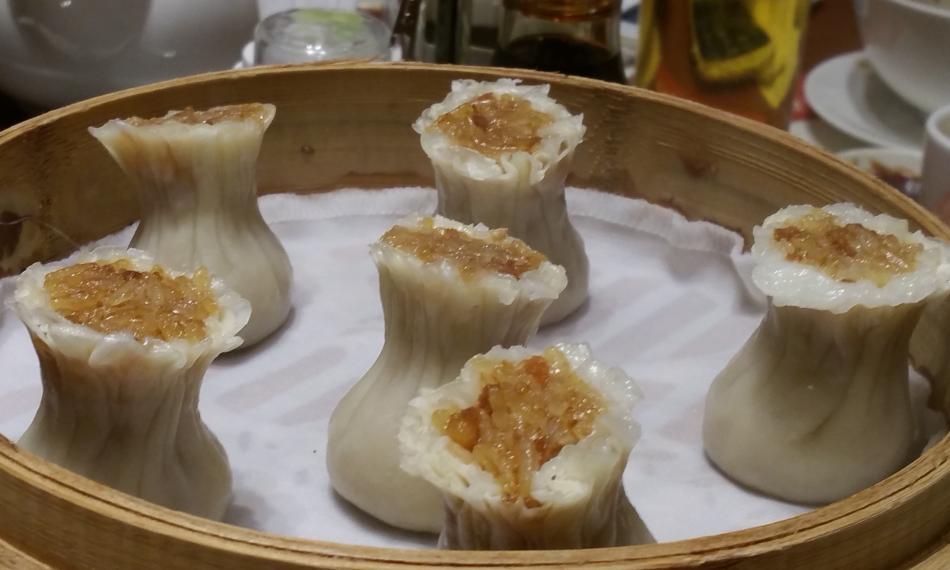 The seafood market was a great adventure.
First, you choose your fresh seafood.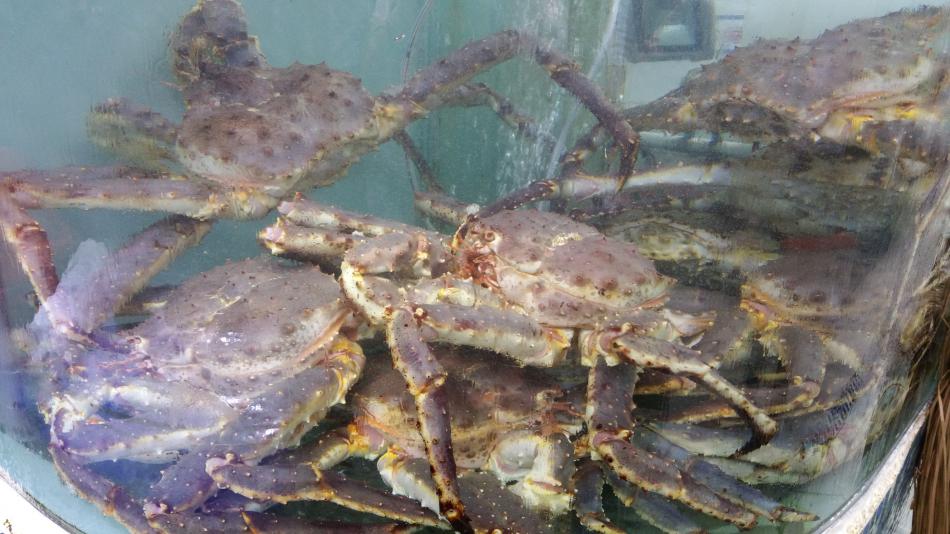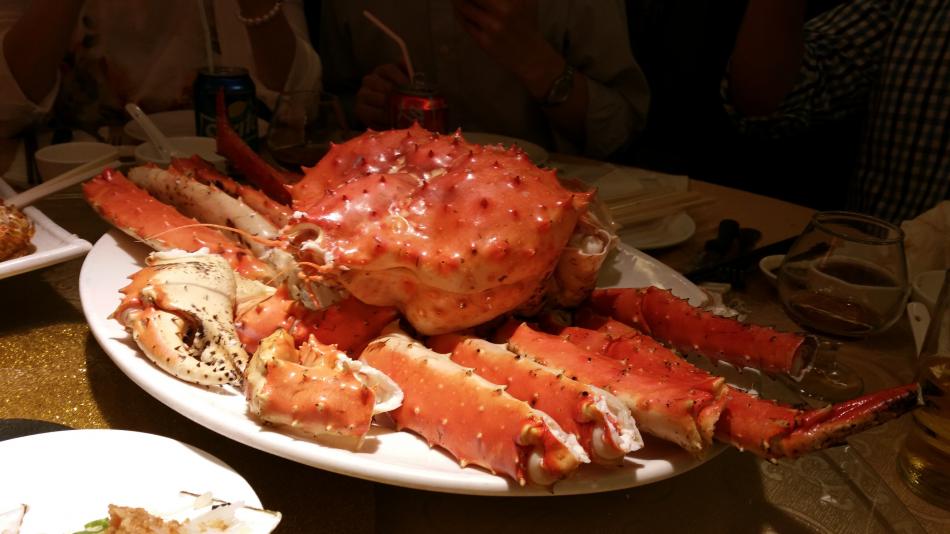 Then you enjoy it at your restaurant.
Here is a freshly cooked abalone.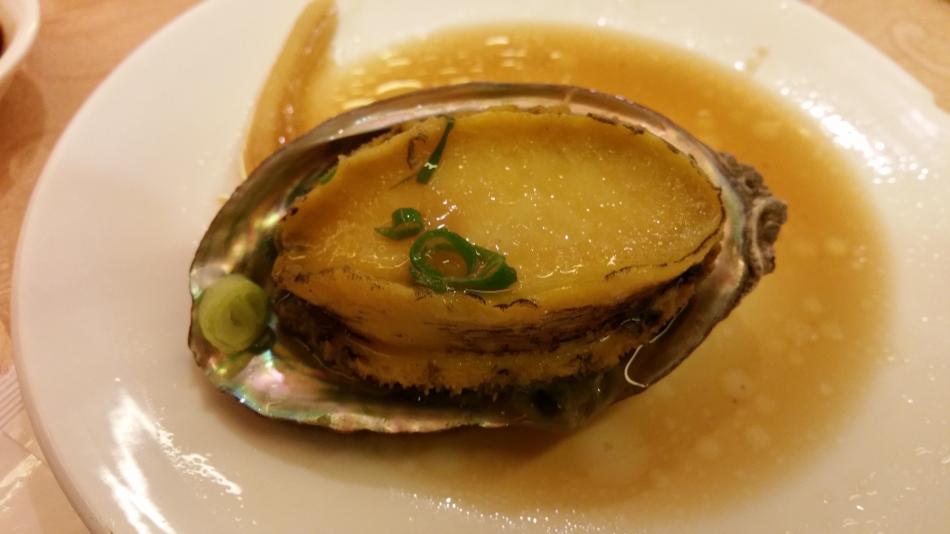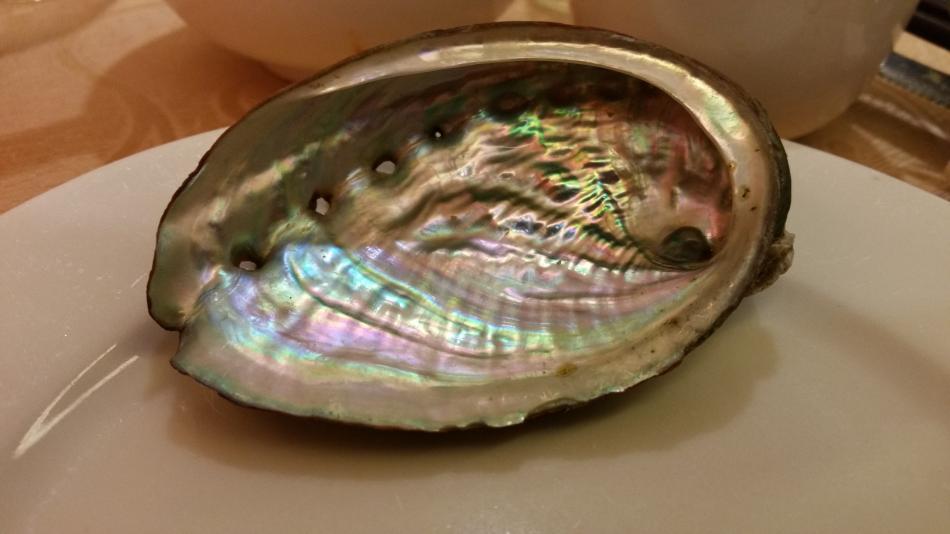 And here is what's left -- Mother of Pearl!
Aside from sightseeing, I found many charming places and situations in Hong Kong. The Fortune Metropolis Mall was next to the hotel and they were featuring the Amazing Cats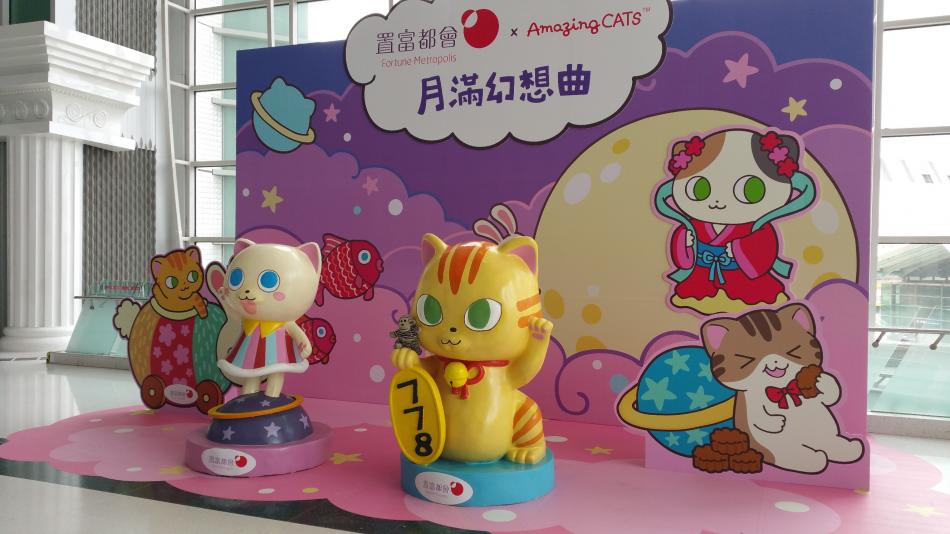 The absolute best encounter was with a wedding party in the hotel. First I came upon a bunch of gentlemen in Bermuda shorts formal wear. Hmmm, what's going on here?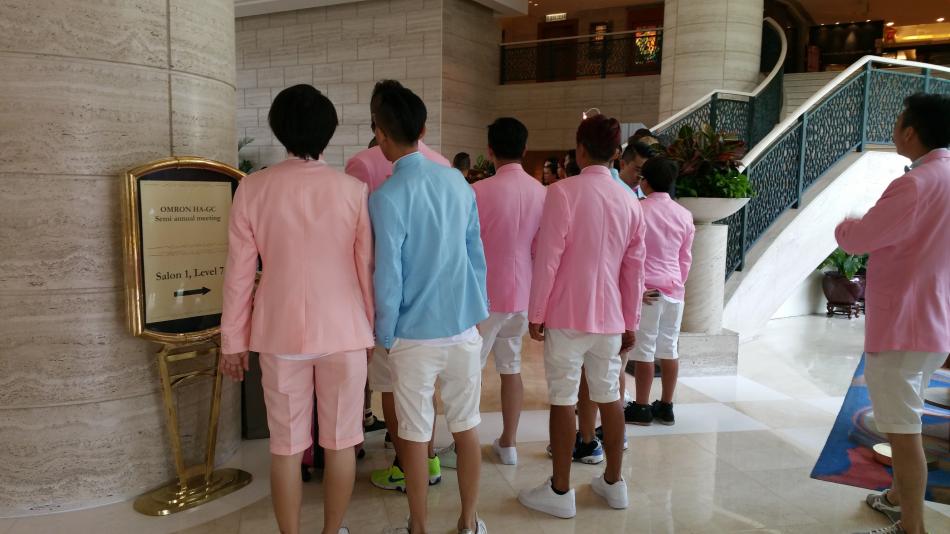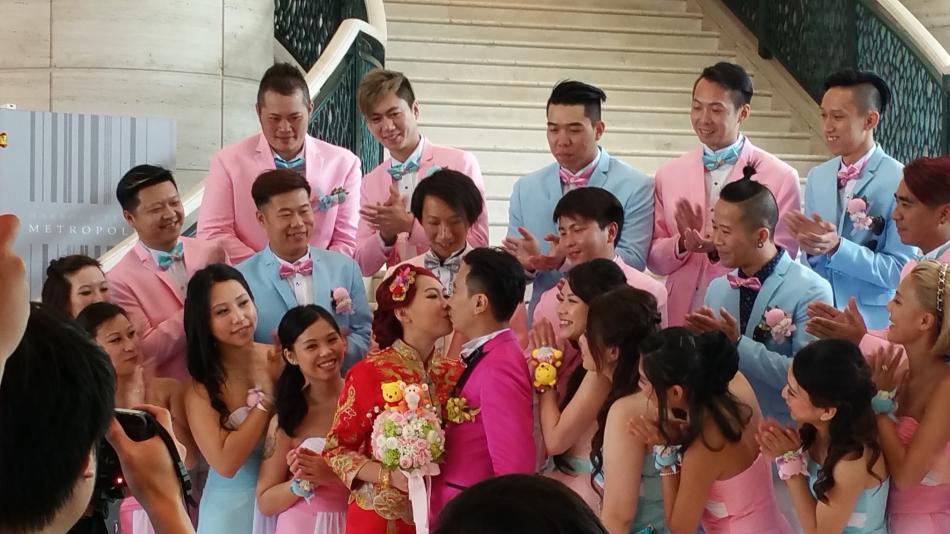 And then the wedding party -- you couldn't ask for a more festive group!
Near the end of my stay, I spent a whole day at the finished jewelry show and met up with my friends at the fabulous Jewelmer display, where we visited with Jewelmer's Jacques Christophe Branellec.
Left to right: Sheri Jurnecka, Jacques Christophe Branellec, Blaire Beavers and Suzanne Busuttil.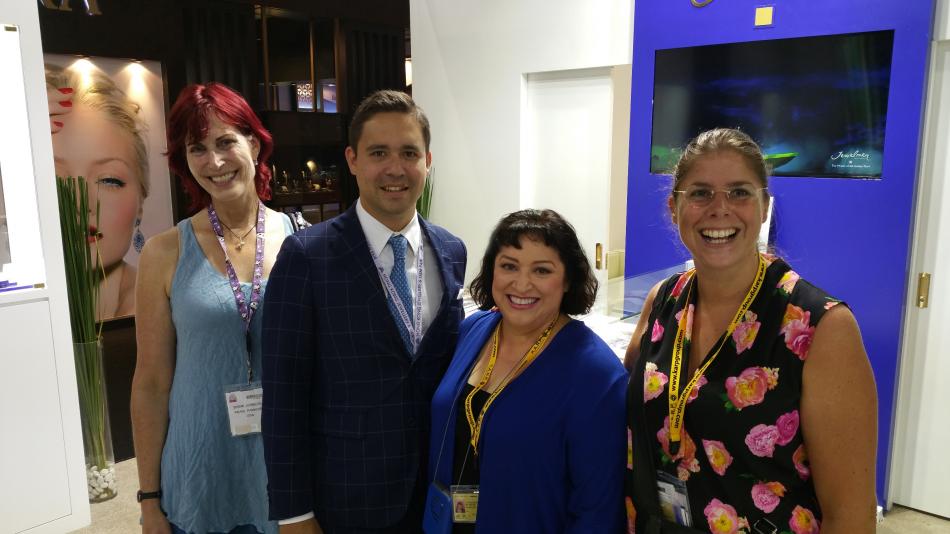 As a member of the Pearl Guide forum, the highlight of the trip was a dinner hosted by Hisano and Jeremy Shepherd for Pearl Guide forum members in town for the show. Peking duck was only the first of many amazing courses.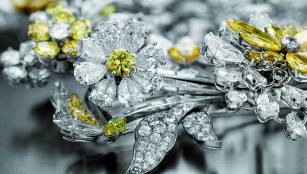 It was a wonderful trip that I hope to repeat in the future and I hope that you can do it too!
Special thanks to Hisano and Jeremy Shepherd of PearlParadise.com for sharing their Hong Kong expertise and many happy evenings.
Blaire Beavers
Managing Editor
Pearl Guide News
Last edited by a moderator: