Here is the perfect marriage of deep golden, lustrous, large and perfectly round pearls. The Palawan strand is an achievement that represents decades of work and the commitment of hundreds of people.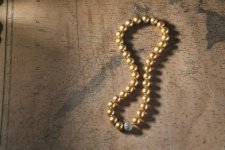 Pearl matching sounds easy until it becomes your job. It is an incredibly frustrating exercise without a lot of practice and a remarkable amount of patience. Experience, color sensitivity, and visual acuity are required for the professional. Only consider the myriad shades of gold that are produced by the Gold Lip Oyster and you'll get an idea of how difficult it was to curate this treasure.

"Palawan is one of the most sensitive marine environments in the world. It's the centre of biodiversity," says Jewelmer Executive Vice President and Deputy CEO Jacques Christophe Branellec. "This is the place that bore this strand." Each creation is only as immaculate as the place where it was bred. The pearls of The Palawan strand mirror the beauty of the Philippines' last frontier, and honour the people who have devoted their lives to preserve the purity of the place.

"When the people from our farms saw The Palawan strand, a lot of them were in tears," says Branellec, for each pearl embodies their life's joy, passion, and dedication—its royal, golden lustre radiates the pride of a nation and the Filipinos' triumphant spirit."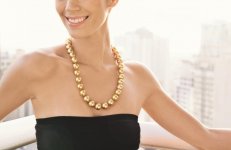 Thirty seven years in the making, 16mm to 18mm in size, and incredibly beautiful. The people of Palawan and the Philippine nation can be justly proud of this native masterpiece.
Blaire Beavers
Managing Editor
Pearl Guide News