Joined

Dec 26, 2016
Messages

76
** End of Poll ** The bottom strand is the Hanadama pearls.
So, the question has been on my mind for over a year -- how do other strands hold up to a miki strand? Is it really true that online retailers stand up when there's this strange flux of grades between companies and a tricky flexibility in grading systems between companies. And honestly...not really sure that even if a cert 'says' a pearl is X grade, how do we know it's really X grade in hand? As a consumer, is there a way we can know that what's grade is what's shipped?
Anyway, I brought my Hanadama strand and put it with a Mikimoto AA grade Akoya (They told me that Miki doesn't do Hanadama but there is a AAA grade available.)
I know, the argument here is that we get what we pay for and I think that's important to keep in mind. I don't think I need to tell what strand is what, but will wait for responses before I answer.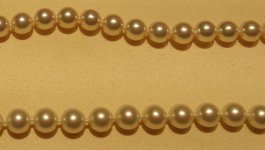 Last edited: