Reema Keswani, Golconda founder and designer, has a way with gems and color, but especially with pearls. A former prot?g? of the exquisite Harry Winston jewelry designer A.V. Shinde, Reema demonstrates the skills of an old-world master, while creating designs that refect the woman of today.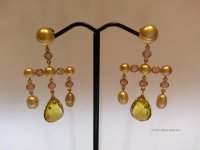 These graceful handmade earrings feature golden South Sea keshi pearls.
Visit
www.golcondajewelry.com
and sign up for Reema's insightful newsletter.