Alishan Halebian designs sculptural and sensuous jewelry. Having seen some great Alishan pearl pieces in the past, I hurried over to the new JCK Tucson show to find his booth.
These thrilling rings are the inaugural Pearl Jewels of the Week. Alishan and his wife, Lydia Tutunjian are lovely people, always willing to help. Lydia arranged the South Sea and Tahitian pearl rings for this photograph.
You can see more at their website, AlishanOnline.com, on their Facebook page, or at JCK shows.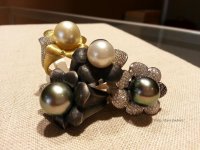 Blaire Beavers