Joined

Mar 16, 2019
Messages

8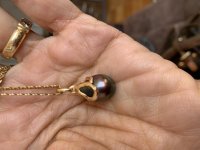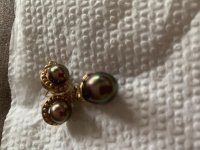 Hi there. I'm a new Tahitian pearl lover after recently buying a beautiful vintage pendant on eBay that came with its certificate (atoll of Manihini). It just said black/green and I'd like to know its color designation, which looks to me like it has some deep purple and copper or Rose as well as green and black.
The second part of my question has to do with the next Tahitian pearls I then bought, a pair of earrings which I bid on and ended up winning at about $160.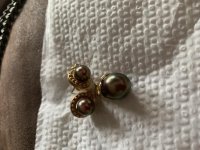 There was not much interest, only one other bidder (whereas I bid against a lot of people for the pendant).
The earrings were described as Tahitian with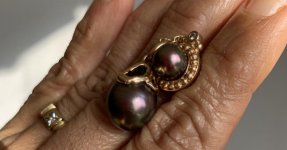 "unusual NATURAL colorization of dark pistachio peacock nacre with coppery rose high luster, these genuine pearls measure 8 MM in size. "
These I'm not so sure of. When I saw the pendant there was a je ne said quoi that immediately said they are natural and genuine. The earrings to me Look more shiny or "mirrored" than iridescent. I've taken lots of photos but none really are true to either pearl in terms of the colors. but I am posting both the pendant side-by-side with the earrings. Any thought on whether the earrings seem natural vs dyed? Thank you so much for giving me your time!