Joined

Oct 6, 2008
Messages

1,383
Hello PG,
Long time no visit, hope everyone is OK and coping under the current crazy circumstances.
I thought I would share this photo with you, to demonstrate the durability and longevity of CFWP.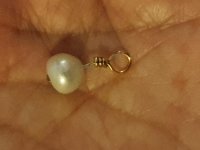 This little pearl is the remnant of the one I wire-wrapped myself back in 1997, and it had been attached as one of the components of a key ring charm/dangle along with a couple of old coins, a small piece of jade, a silver and a gold charm.
It had been rubbing against the rest of the key ring and the keys attached to it for all these years.
The nylon cord of the key ring dangle was at risk of breaking after all these years, so a new one is required, and I made a new pearl charm for it.
The initial pearl was a lot bigger, as demonstrated by the distance between the wire knot and the top of the pearl.
Hopefully I have picked another CFWP for the new charm, based on its slightly potatoey shape. It came from the loose odds and ends sold in 250g packs by PP to the lowly beaders many years ago!
I hope to come to LA for another Ruckus in the future.
In the meantime, take care and stay safe!
DK