Sarah Canizzaro, of Kojima Pearl, has been offering these breathtaking brooches for the last few years and it's a lucky group of pearl-lovers that own them.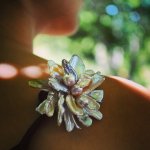 Sarah and her husband, Mounir, have been busy creating a wealth of artistic pearl jewelry, custom pieces and special requests. Sarah has been in the pearl world all of her adult life and you couldn't hope to meet a more interesting or knowledgeable person.
www.KojimaPearl.com
is a destination website for rare and beautiful pearls, photographed by a woman with a special gift for capturing their splendor. Sarah says: "I prefer to make the unusual and find the people who are attracted to it."
Lucky for us!
Blaire Beavers