Joined

Sep 20, 2006
Messages

9,197
Here is a beautiful Perlas del Mar de Cortez, Sea of Cortez pearl ring in daylight...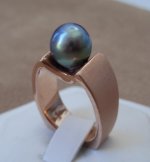 And here is the same ring after leaning over the ring and using a fluorescent light...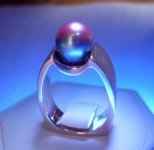 Only the top half of the pearl is reacting because it is not in a darkened room. I hope this helps the discussion of how much fluorescence you should see in a Sea of Cortez pearl. it isn't a guarantee that you have found one, but it's a good indication that further exploration is desirable.
Sea of Cortez pearls are remarkable jewels!
Blaire