Joined

May 19, 2017
Messages

55
This article contains important information for pearl party vendors and those who choose to open oysters at home
Formaldehyde, when you hear this word no doubt you think of a funeral home or embalming. It may surprise you to know that formaldehyde has other uses too.
We here at Pearl Information Association became aware a few months ago, that the oysters that were being used for entertainment purposes could contain formaldehyde. We found this very concerning as formaldehyde is a hazardous substance. It has taken us quite some time to find somewhere that would even test these oysters for us. Some places refused to even work with the possibility of a formaldehyde contaminated product, some didn't have the necessary equipment. After a lot of searching we finally found somewhere to test them. Testing of these oysters was very expensive so we decided to have tested 2 of the most commonly used oysters, the juvenile akoya oysters with freshwater pearls inside. We obtained these 2 oysters from the same supplier, the results will go to show that ordering these oysters is like playing Russian roulette with your health.
The first oyster was broken down and tested for formaldehyde, the results were negative.
The second oyster was broken down and tested. This oysters result was that it was 7.7% formaldehyde! This means that 1.2 grams of the oysters weight was in fact formaldehyde. This result was shocking even to the analyst who did the test.
An anonymous source told us "I am shocked at these levels and I find this concerning. Formaldehyde is very dangerous. I don't think these oysters should be opened at all. I especially don't think they should be opened in large numbers or by children."
So what side effects can formaldehyde cause?
•Irritation of the eyes. This can include itching eyes, watery eyes and a burning sensation.
•Respiratory problems. This can include a burning sensation in the nose and throat, coughing, wheezing and tightness of the chest. It can lead to long term health issues such as asthma.
•Skin irritation. Formaldehyde can cause skin irritation and can even cause eczema. Those who are particularly sensitive to formaldehyde would not even need to touch it for a reaction to occur, for some even just breathing in the fumes can cause skin irritation.
• Formaldehyde is also carcinogenic. It can cause cancer of the throat or nasal sinuses if inhaled.
These are just a few of the more common problems contact with formaldehyde can cause. There are also many others.
This is very concerning as some vendors open these oysters in high quantities on a regular basis. Some have begun to wear gloves due to skin irritation. But don't be fooled into thinking gloves will protect you from exposure. Formaldehyde evaporates into gas form and is then inhaled by not only the person opening the oyster but also those around them. There are also suppliers who sell a kit that includes the oysters for children's birthday parties. This is obviously very worrying.
EU safety guidelines say that products for public use, such as cosmetics, shouldn't contain more than 0.2% formaldehyde. The oyster that tested positive contained 7.7% this is way above guidelines. We chose cosmetics as a comparison due to a similarity in skin contact.
Also according to the EU cosmetics directive, if a product had a concentration of formaldehyde more than 0.05% then it must be labelled "Contains formaldehyde". The oysters we received had no labels on at all.
We have contacted the health and safety executive to find out more about these levels and will give you more information as we receive it.
If you would like any further information on the testing please ask. We would respectfully ask that high numbers of people do not contact the lab itself as they are very busy.
If you or someone you know has been affected by possible formaldehyde exposure due to these oysters we ask that you contact us. We can be reached via our facebook page: Pearl Information Association. Alternatively we can also be reached via email at
admin@pearlinformationassociation.co.uk
There is also a petition to ask the UK government to take this seriously. We would greatly appreciate anybody who wanted to sign.
https://www.change.org/p/uk-parliament-stop-dangerous-pearl-party-oysters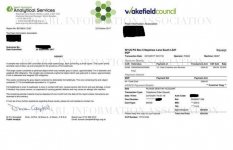 Last edited: