Fifth in a series by Antique Jewelry Collector Paul Royse. See the first one here.
Antique Pearl Jewelry that YOU could own - The Edwardian Period
By Paul Royse
The Edwardian Era covers the reign of the English King Edward VII, from the death of Queen Victoria (Edward was her eldest son) in January 1901, to Edward's own death in 1910. However for practical purposes the Edwardian Era usually refers to the period from 1900 to the start of World War One in 1914.
These first fifteen years of the 20th Century saw increasing use of electricity in homes and businesses, motorcars became widespread, and new inventions like powered aircraft and radio transmission were developed.
Amongst the wealthy it was a time of unashamed ostentation, and pearl jewelry was hugely fashionable. For royalty, nobility, magnates, opera and stage stars, and the other rich and famous of the day, a great pearl necklace was among the most desired status symbols.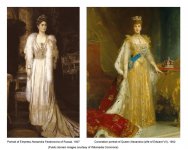 The phenomenal natural pearl necklaces shown above were priceless crown jewels, assembled from pearls collected over centuries. New money also lusted after pearls. George Jay Gould, heir to a great American railway fortune, bought five perfectly matched strands of pearls for his wife (former stage actress Edith Kingdon) from Tiffany, at a rumored cost of $500,000 ($11.5 million in today?s dollars). (See pictures of Mrs Gould in her pearls in this article on Pearl-Guide
http://www.pearl-guide.com/forum/showthread.php?t=3117
)
When celebrities wore such magnificent jewels, pearls became universal objects of desire. Insatiable demand from the public resulted in manufacture of a huge variety of pearl jewelry in Edwardian times. At this time cultured pearls were unknown. All pearls were natural pearls. Due to their immense popularity, and the quality and volume of pearl jewelry created, the Edwardian period is now regarded as the high point for natural pearl jewelry.
Only the well-to-do could own a necklace of pearls. The following double strand of naturals can be conveniently dated from the maker's label. Charles Packer commenced business in Regent Street, London circa 1839. From 1880 the business traded as Charles Packer & Co, and this name changed in 1917, so these pearls date from the period 1880-1917.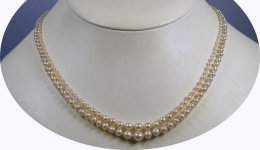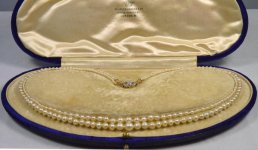 A slightly less expensive pearl necklace might be made with seed pearls, then relatively plentiful, and among the most common gems seen in Edwardian jewelry. The next piece is an example of "Night and Day" jewelry. The bottom section detaches, and can be worn during the day as a brooch, or via its fold-up bale, as a pendant. The full suite would be worn at night for formal occasions. The design plays on this usage, and depicts the sun, moon and stars.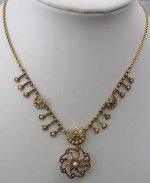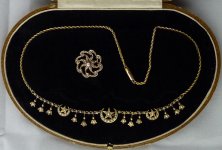 Above 4x pearl necklace images courtesy Royse family collection.
These night and day sets were relatively expensive in their time, and were still only accessible to the "well-off". This one is 15ct gold, and is English. In the USA, where they were also popular, it would've been made in 14k gold.
These sets were often bought for a daughter's sixteenth birthday or her "coming-out" or debut, when she would be presented to society as a debutante. It would then serve her well for her ensuing social events, including the ultimate goal from all that socializing, her engagement and wedding. There's a quite blatant reference to that intended use as well, for the depiction of the moon in Victorian and Edwardian jewelry is generally a reference to the honeymoon.
The elements of Edwardian seed pearl jewelry were usually machine made and hand finished to a high standard. The pearl sizing and setting, and assembly of the piece above would have been all done by hand - intricate and skillful work.
The greatest jewelry production centre in Edwardian times was the Jewellery Quarter in Birmingham England, at its peak in the early 1900's, supplying the world, and employing around 30,000 people. There was concern amongst jewelers to obtain the skilled workers needed, so that quality production could be maintained. In 1890 industry initiatives saw the School of Jewellery and Silversmithing established, in a converted factory on Vittoria Street, as a branch of the Birmingham School of Art. The headmaster from 1903 to 1924 was Arthur Gaskin, a prominent Arts & Crafts jeweler and an associate of the leading light of the Arts & Crafts Movement, William Morris.
This concern with quality, and an interest in the artistic and design elements of jewelry production, means that most Edwardian jewelry is attractive and made to high standards. It's sought after today by lovers of antique jewelry, for by now (in 2015) all Edwardian pieces are over 100 years old, and so are genuine antiques.
Let's look at a selection of Edwardian pearl jewelry that you could own. Pieces like this can still be found in many antique jewelry shops, and via online sites. Considering their beauty and quality they're often quite reasonably priced, with a vintage character and appeal that's missing from a lot of the modern jewelry in the local mall.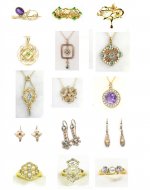 Images not to scale - All pieces courtesy of Pearl-Guide member Helen Byrne (Fidra Jewellers, Brighton
www.fidra.com
)
Collectors Tips
The holy grail for collectors of Edwardian jewelry is to find a necklace of natural pearls. One needs to be mindful in this quest that while all Edwardian pearl necklaces were originally strung with natural pearls, this doesn't guarantee much after 100 years.
A 100 year old necklace will have been restrung many times, and cultured pearls were often blended into natural necklaces at a later date to lengthen them. Original Edwardian clasps are no guarantee of authenticity either, as these could've been transplanted onto cultured pearls at any time in a necklace's history.
A couple of clues to possible naturals can be found in the stringing. In Edwardian times naturals were often strung unknotted, with seed pearls as spacers, as seen in the Charles Packer necklace above.
Natural pearls are recognizable with experience, and using tests like "candling", or X-rays. There is another very good test for natural pearls, submit them to Pearl-Guide.com. Here you'll find a friendly group of knowledgeable pearl lovers who will readily give you an honest evaluation of your pearl pieces.