A jewelry collector client brought an unusual 26mm baroque pearl to designer Cynthia Renee. That pearl inspired a very cheerful creation - "The Smile".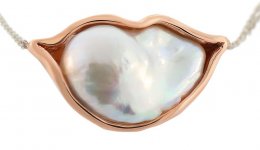 Rose gold surrounds the pearl, flowing organically, and enhancing the lovely iridescence.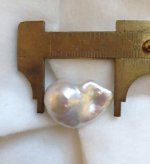 Cynthia Renee is one of my favorite designers and she has a way with pearls, as seen in this stalker-shot from the AGTA GemFair in Las Vegas. Cynthia is wearing her "Calligraphy" earrings with pink tourmaline, spessartine* garnet and removable 13.5mm pinkish-purple Kasumiga pearls.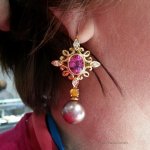 A trained geologist and gemologist, Cynthia has been in gem mines the world over and is frequently consulted as an expert on the finest gemstones. Her travel generates inspiration for new jewelry designs, and we can see from The Smile, her sparkling wit also has a hand in the creative process.
www.cynthiarenee.com
*Spessartine Garnet now replaces the use of Spessartite Garnet for better alignment with mineralogical standards.
Blaire Beavers