Joined

Aug 11, 2019
Messages

362
By now I've started to accumulate quite a few, not really intending to start a collection. Oops! Some of these were part of a job lot, others bought individually. I didn't spend more than $20 for anything here, and mostly much less.
The brooch with the plumes was a surprise on arrival; the seller's photo really did not show the tiny size of the seed pearls nor the amount of detail. (I am resetting a few loose ones.) The seed pearls are genuine, as are all the pearls in the photographed pieces, except maybe the shamrock pin with the pink rhinestones. Those pearls or pearl-a-likes look beautiful, but they don't have the grittiness of the other shamrock brooches or the plumes.
I would say almost all of these are mid-century except for the bar pin, which is likely a little later. (I think it's a 1980s "Victorian" repro.) The shamrock with the pink stones is an antique, if I go by the C clasp.
The one triple earring set is sterling silver, and the others are 12K gold-filled, one white gold.
The only piece with a maker's mark is the triple pearl pair with the white gold-filled clips: they're marked "Cultura."
Thank you for looking! It was fun to group them all together. Hope everyone is doing ok.
—Cece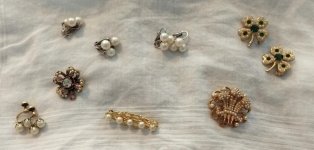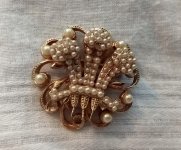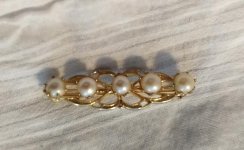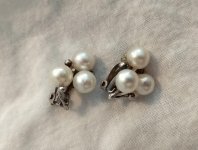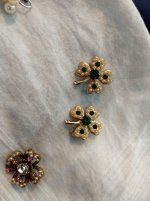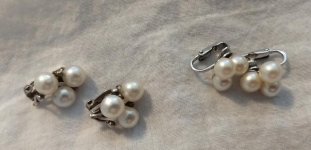 Above right earrings are marked "Cultura"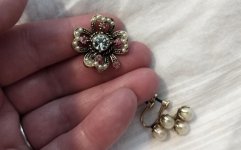 Last edited: