Joined

Sep 5, 2016
Messages

1,486
Hi pearl people
!
I had been very quiet here since a major health issue and had to prioritize my treatment first so I banned myself from buying more pearls. Now that everything is back under control, I gave myself the permission to have a few nice treats. I contacted Cees to see if he had some interesting ssp strands in his stock. Covid has made it difficult for me to travel to the Netherlands to see the pearls personally.
He offered me two types of wssp strands : a strand of oval wssp with pink overtone from Paspaley and a strand of baroque wssp with icy blue overtone from Concord.
I grabbed the bluish ones, 10.40x11.90 mm, without much overthinking because a strand of wssp with bluish overtone is quite rare. The first time I saw one was back in May or June 2017. Cees also made me a pair of earrings to match my strand.
First picture is from Cees himself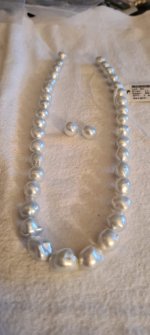 This is the picture I took this morning. I still have to find a suitable clasp and string the pearls.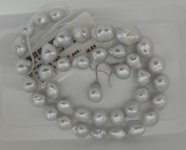 Cees told me that he looked for the strand in February 2020 before he left Asia to Europe. Then there was the lock down...
I hope everything goes back to normal and we can travel again to get the best pearls!
Last edited: