Joined

Jun 29, 2014
Messages

692
I bought some Beader's Secret thread, needles and gimp from Pattye at the last Ruckus, and I am just now getting around to stringing my first necklace. (Hangs head in shame.) I bought a Belpearl necklace from Saks Off Fifth for a good price, but the thread broke the first time I tried to take it off. I decided to re-string it myself, which would also allow me to put the pearls in a more pleasing arrangement. There are 7 small faceted spinel beads between each pearl and also between the final pearls and the clasp. I have encountered two problems, and could use some advice, please.
Problem 1: I can get the needle with doubled thread through the spinel beads once, but I cannot go back through a second time after attaching the clasp. There were only about 6 knots in the whole necklace. One knot was after the first group of spinel beads next to the clasp, but there are only two strands of thread throughout the necklace. On the other side of the clasp where I have removed all the beads, there is a tiny knot right next to the gimp. The only solution I have come up with is to thread the needle and thread through the gimp and clasp first, then make the first knot next to the gimp/clasp, cut the thread tail as close as I can to that knot, and then string the first section of spinel beads. Any other ideas?
Problem 2: When I was doing my trial run, I put a section of gimp onto the thread and then tried to pull in through the O-ring on the clasp. (It is a small silver Orbit style clasp from Rio G.) I cannot get the gimp to go through the clasp. It seems like the diameter of the gimp might be too wide for the clasp?
Question: Once the other issues are resolved, for a 40" necklace with 8-10 total knots, what length thread should I cut to use?
This is the necklace: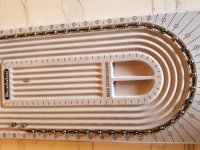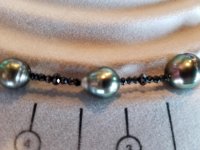 Current clasp (shows knots):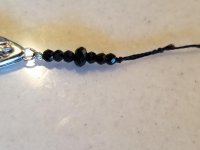 New clasp with gimp that won't fit through: