Joined

Jan 18, 2021
Messages

76
I got my two new necklaces in the mail today! They're both vintage, which as an estate jewelry collector felt right. Thank you so much to the people who gently advised against buying the Edison pearls and just getting what I really wanted (SSP!). I thought SSP were totally out off my reach, but vintage pearls aren't!
My first necklace is an 18 inch South sea pearl necklace, 11.6mm to 13.20 with a 14k gold and diamond toggle clasp. I don't know anything about pearl value, but these cost less than 100 dollars more than the unstrung Edison pearls I almost bought, so they seemed like a good deal to me! I can tell they aren't perfect pearls, as they have some minor surface blemishes and aren't perfectly round. I'm not sure what the luster is like, never having seen a top quality SSP in real life, but they're much more shiny than any of the freshwater pearls I've seen, and nearly as shiny as the akoya pearls below. They're so beautiful, I think! I figured that they wouldn't give really bad pearls such a nice clasp, and I think I was right.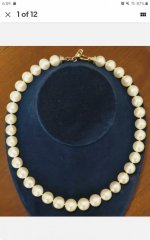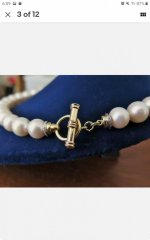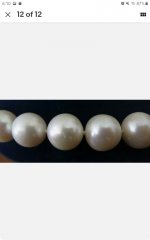 My second necklace is a vintage 32 inch long (akoya?) necklace with 6mm to 8mm size pearls. It's got a gorgeous 14k white gold and diamond clasp, and I just had a good feeling, again, that poor quality pearls wouldn't have such a fancy clasp. I really know nothing about pearls and I was afraid buying vintage would mean dull pearls, but these are fantastic! So shiny! When the light is better I'm going to look at them more closely for signs of the nacre wearing off, as I've read can happen to akoya pearls, but so far they look very nice to me. Not perfect pearls, as I can see some small blemishes, but they're perfect for me!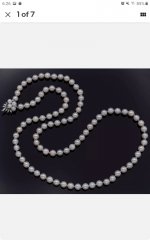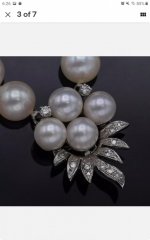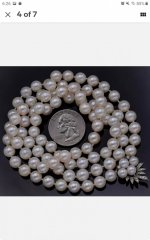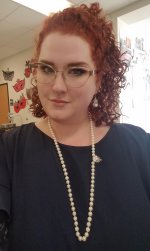 Now, when my wallet stops whimpering, I want colored pearls! I still plan to get those freshadama pearls eventually, but for my "starter pearls" I think I'm going to stick with estate. BTW, I plan to restring both of these necklaces to be safe, and I'm going to try to do it myself- fingers crossed!
Last edited: