Joined

Dec 29, 2020
Messages

264
Last night I finally finished making this floating pendant. Reaming a hole to this big demanded more patience than I had thought. Believe it or not, it took me several nights just to enlarge the hole. Picture first and let me tell the story after.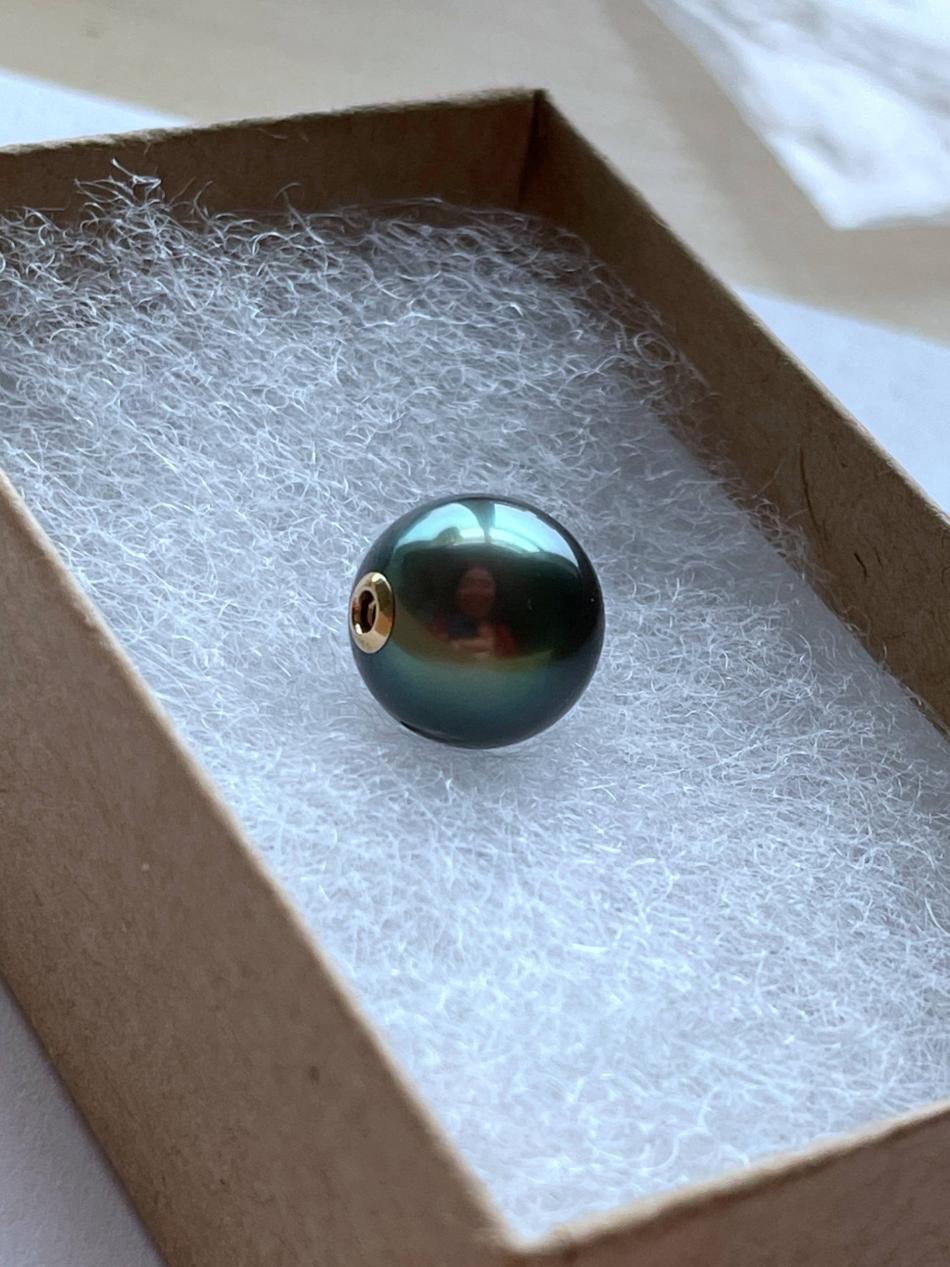 So, it's the simplest, most basic floating pearl pendant. However, the pearl is... kind of special, in a not very good way. It has the most beautiful color, surface, and luster on one side, which is shown in the photo above, while the other side is nearly jet black, with 6 very obvious blemishes if not 7 - that's still tolerable. What bothered me more was, after reaming 10 minutes from one side of the hole, I suddenly noticed that instead of being perpendicular, the reamer was at an angle with the pearl! After some careful examination, I figured that this pearl had been drilled from two sides to the center (which is good and common), but it had got an "angle" inside, instead of a straight hole. Although I bought this pearl from a reputable seller, it was already too late to return. So I sucked it up and tried reaming from the other side, and that was not the end yet...
The night before last night, I was reaming and reaming and suddenly the fingers holding the pearl had a very weird feel from inside the pearl, and it moved with the direction how I twisted the reamer. I sweated and petrified as I never expected anything "moving" so forcefully INSIDE a pearl... (I do have a pearl whose nucleus fell though, but it makes a little noise when I shake it.) After calming down a little, I believed I had just dislodged or at least loosened up the nucleus from the nacre. Then I was rather terrified that the movement of the nucleus would break the nacre and ruin the pearl. After a short petrification, I cautiously twisted the reamer slightly to make sure it wasn't my illusion, and the fingers felt the same thing - something was moving with the reamer under the surface layer of the pearl. (Actually I asked myself, nuclei are perfectly round, how could I possibly feel anything even if it rotated? But then I thought, could it be the poor drilling that made the hole's pathway off-center therefore I could feel the movement?)
Anyways, "I got a pendant to make. I want a floating necklace. Just be very careful. It's gonna be okay." I told myself. So I kept reaming, but only twisting back and forth with tiny distances, which made the process extremely slow of course. And once I could see a straight hole of decent thickness for the chain, I gave up the reamer and switched to my bur bits to enlarge just the outer layer for the gold parts - I never thought they would one day be used on a pearl! I pinched the bits with fingers and manually did the rest of "reaming", from which I learned nacre is more solid and much harder than I thought.
Before gluing, I was very curious how thick the nacre was (because from my fingers' feel, I felt the nacre was probably quite thin) and how the nucleus-nacre boundary looked if I had dislodged the shell bead, so I took a peek inside the hole, and here is a picture to share: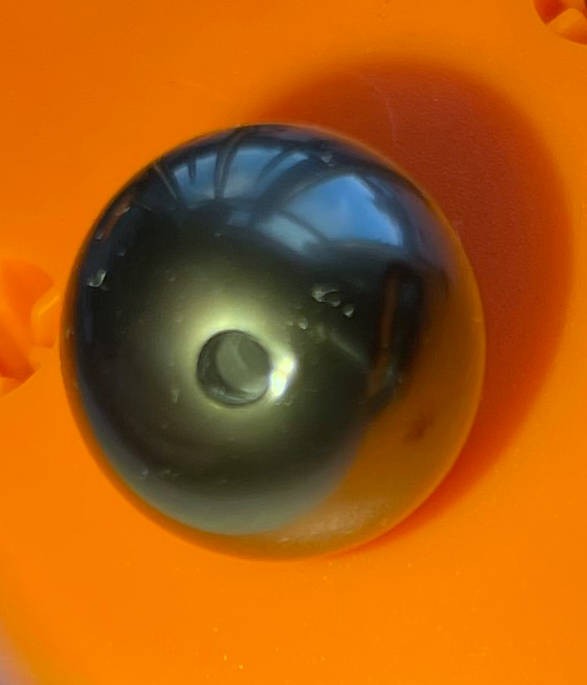 I was fairly excited and delighted to see this. The nacre seemed thick - I measured it and it was about 2mm, and the boundary seemed normal (I guess) to me.
It's still a myth to me whether the nucleus is still in its right position (meaning no rotation after everything, no matter whether it was rotated back or never moved from the beginning) and whether there is no space left somewhere between the nucleus and nacre whilst somewhere else the nacre gets more pressure from nucleus than it normally should. I guess it might remain a myth to me for the rest of its life, unless one day in future I can get a chance to X-ray it.
All in all, I made my first floating Tahitian pendant. It's with 18k solid gold. I like it, and I will find it a chain.
​​​​​​​
Thanks for looking, and thanks for your patience reading such a long post for such a simple piece of pearl jewelry.