Joined

May 10, 2006
Messages

659
Recently, I've seen metallic goldens of 7.5mm-9mm that looks of natural color. They are not frequent and included in lots of varying luster and intensity of orient. In a lot, there will be 2-4 pearls with very high orient, and of different overtones so it is difficult to get a nice match.
They are being sold as golden south seas. The thing is, such strong orient is higher than usual for GSSPs as GSSPs are usually satiny so I would like opinions that they maybe golden akoyas? I have also seen golden akoyas in the past, and most are not a deep gold, so even natural bronze golden and deep gold akoyas are quite rare and usually not of such high orient (at least what I have seen in the past).
The strong orient pearls usually look bronze golden, and sometimes appear a bit with blue or green because of the orient - not body color. I have hand-picked the pearls myself and took the most lustrous with high orient, which is noticeable compared to other pearls in the lot.
Here is a photo and I have placed them together with GSSPs and an 18k gold ring for color and luster comparison. Subject pearls are top right and bottom left.
Top left: 11.8mm GSSPs
Top right: 9mm high orient, high luster golden pearls
Bottom left: 8mm high luster pearls, orient not as strong as top right
Bottom right: 7.8mm GSSPs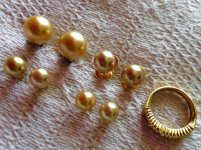 Here is another photo and as you can see, subject pearls based on surface have a thick nacre coating.