Joined

Jan 27, 2007
Messages

138
Wow! Talk about a major thread resurrection!
I've come back everybody, it's good to say hello again and see that some of the regulars are still around (which is kinda crazy to think about since the last time I was here I was still living in Colorado!).
In any case I've a new goodie to post in my collection! These days I don't go after pearls much anymore but my parents went on a trip across parts of Asia last year and one of their stops was in Vietnam where they visiting a pearl farm and even went on a tour. This was kinda unreal as I thought that they had no real care for such things but hey, live and learn!
Since they went to this little excursion they even brought something back for me: a pearl pendant! Although IMHO some of the stuff on the 'info card' is very misleading, I didn't have the heart to tell them about it. But I'll let the photos do the talking.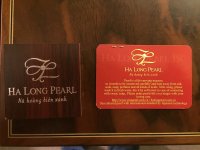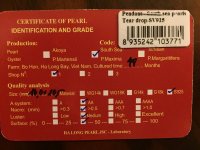 The pearl itself is clearly freshwater to me; I am not convinced at all that this is a 'South Sea' pearl. It appears pretty clean from surface blemishes and the luster is very pretty but nothing 'wowie!' about it. It's a very soft, feminine pink color which is I think my favorite thing about this pearl. It's a thoughtful gift nonetheless