Joined

Aug 30, 2012
Messages

408
As seen here
.
Keeping pearling tradition alive in Gulf
Some Gulf states encourage diving for pearls
Dubai The Arabian Gulf overwhelmingly relied on pearl fishing during the early years of the 20th century. It was 7,000 years ago when the first pearl was found in Kuwait.
Ironically, the industry died with the closure of Kuwait?s pearl-oyster market in 2000, thanks to the development of Japan?s cultured pearl industry.
Added to that, after the discovery of oil, diving for pearls as an industry was left behind.
Historically, the best natural pearls come from the Arabian Gulf, particularly Bahrain. The pearls from this region have an exceptional sheen thanks to the mixture of salty and sweet waters in the Gulf.
However, over the past few years, several Gulf countries have been trying to revive the tradition. Bahrain has now prohibited the import of farmed pearls and lodged an appeal at Unesco for pearl diving to be protected.
Qatar celebrates this activity during a special cultural week every year, while Kuwait organises the Pearl Diving Festival, which aims to recreate the traditional pearl divers routes.
Pearl-diving trips are held annually under the patronage of the Kuwaiti Emir Shaikh Sabah Al Ahmad Al Sabah in order to keep traditions alive.
In the UAE, pearl diving is no longer a profession, but people still go diving as a hobby. There is still trade in natural pearls, but mostly at international auctions, as they are very rare.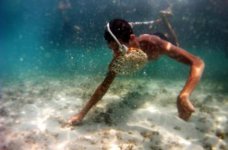 A member of the Kuwaiti diving team, search for pearls during the 24th Pearl Diving Trip, in Kuwait, 27 August 2012. At least 160 divers aboard nine ships dive for pearl oysters, the trip concluding on 30 August. Pearls (dana), used to be a major contribution to Kuwait?s and the wider Arabian Gulf?s wealth, before oil was discovered in the region. EPA/RAED QUTENA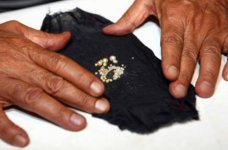 A Kuwaiti pearl diver shows the pearls he picked from the sea in the port of Khairan, 100 kilometres south of Kuwait City, on August 27, 2012. Pearl-diving trips are held annually under the patronage of the Kuwaiti emir in order to keep alive traditions that accompanied the once-important national pearl trade before the discovery of the oil wealth. AFP PHOTO / YASSER AL-ZAYYAT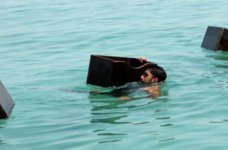 Kuwaiti divers search for shells containing pearls in the port of Khairan, 100 kilometres south of Kuwait City, on August 27, 2012. Pearl-diving trips are held annually under the patronage of the Kuwaiti emir in order to keep alive traditions that accompanied the once-important national pearl trade before the discovery of the oil wealth. AFP PHOTO / YASSER AL-ZAYYAT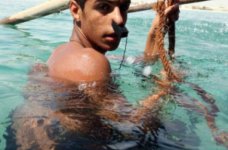 A Kuwaiti diver takes part in the pearl diving festival in the port of Khairan, 100 kilometres south of Kuwait City, on August 27, 2012. Pearl-diving trips are held annually under the patronage of the Kuwaiti emir in order to keep alive traditions that accompanied the once-important national pearl trade before the discovery of the oil wealth. AFP PHOTO / YASSER AL-ZAYYAT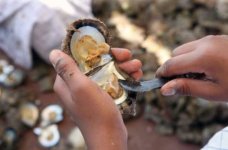 A Kuwaiti diver opens a shell he picked from the sea in search of pearls in the port of Khairan, 100 kilometres south of Kuwait City, on August 27, 2012. Pearl-diving trips are held annually under the patronage of the Kuwaiti emir in order to keep alive traditions that accompanied the once-important national pearl trade before the discovery of the oil wealth. AFP PHOTO / YASSER AL-ZAYYAT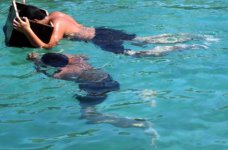 Kuwaiti divers search for shells containing pearls in the port of Khairan, 100 kilometres south of Kuwait City, on August 27, 2012. Pearl-diving trips are held annually under the patronage of the Kuwaiti emir in order to keep alive traditions that accompanied the once-important national pearl trade before the discovery of the oil wealth. AFP PHOTO / YASSER AL-ZAYYAT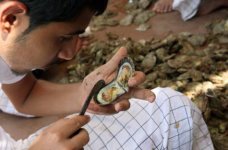 A Kuwaiti diver opens a shell he picked from the sea to look for pearls in the port of Khairan, 100 kilometres south of Kuwait City, on August 27, 2012. Pearl-diving trips are held annually under the patronage of the Kuwaiti emir in order to keep alive traditions that accompanied the once-important national pearl trade before the discovery of the oil wealth. AFP PHOTO / YASSER AL-ZAYYAT