Joined

Aug 11, 2019
Messages

362
Late last year I bought a vintage (or older) pearl shortener/pin on eBay for around $12, but didn't get around to testing the metal, etc. until now. I hadn't expected the wire and beads to be precious metal. But they are, so now I'm even more intrigued regarding the pearls. The wire tested 10K, and the beads are 14k. I took photos of the pin on a while background in natural light next to a measuring tape so you could see the size of the pearls more easily. They have pretty overtones and fairly large holes, and an irregular shape, as you can see. A couple of them have quite flat backs. Anyway, I would so appreciate your eyeballing the pearls and telling me if there is anything interesting about them. I guessed freshwater from the photo when I purchased the item, but then I kind of forgot all about it for a year.
They are approximately 8mm x 6mm, the middle one being the largest. Last two are seller photos I saved.
I don't know what the black beads are; I guess that's the next mystery.
Thank you for looking and I hope you all have a safe and pleasant-as-possible Monday!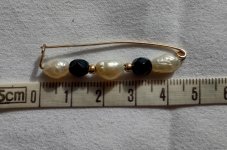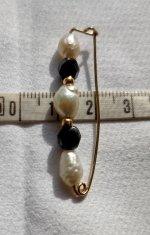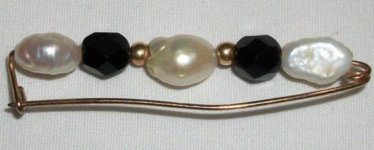 Last edited: