When pearl farmers open a mollusk to culture a pearl, they sometimes discover a pearl that has occurred naturally. While some insist that any pearl found in a farming operation is cultured, natural pearls do form in mollusks before they are opened for the first time.
This is not the same as keshi, small baroque pearls that form after mollusks have been grafted. These small treasures can't be counted as natural.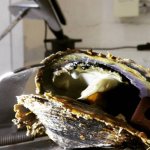 This Pteria sterna, or "Rainbow Lip" oyster is held in a grafting clamp. There is a wedge on the right side that holds the oyster open while the donor mantle tissue and bead are placed in the gonad through a small incision. This natural pearl is large, and for a trained pearl technician, easy to spot. It's dangling on the upper left, held fast in a thin layer of tissue.
But, it wouldn't be right to show an oyster without showing pearls, especially in the case of colorful Sea of Cortez pearls.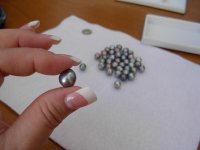 Here is a beautiful baroque pearl.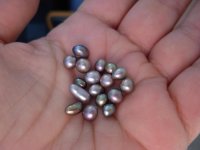 Sea of Cortez keshi.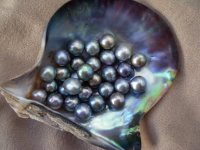 And here are more pearls displayed in a polished rainbow lip shell where you can see the magnificent range of color.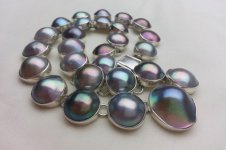 An ending treat -- a one-of-a-kind Sea of Cortez mabe pearl necklace.
You can visit the website to see Sea of Cortez pearl jewelry and read the blog.
https://perlas.com.mx/
Top photograph: Douglas McLaurin-Moreno, all other photographs: Blaire Beavers.
Postscript: a video of a natural pearl being gently removed.
Blaire Beavers
Managing Editor
Pearl Guide News