Joined

Dec 31, 2017
Messages

132
Hello,
I have a person asking for advice regarding pearls, which is a good opportunity for me to remember what I've learned from the lovely experts on this forum and the CPAA course, especially dyed vs undyed. However, I came across a challenge? How exactly can you tell apart dyed edison and natural-color Tahitian/ South Sea? Real Metallic luster vs dyed metallic lusters?
From what I've known and seen, dyed pearls, especially the dyed blackish ones, tend to have some micro dark spots as the surface of the pearl is not smooth and colors can concentrate on the 'pores' (I'm not entirely sure if this is the right term for it sorry). In my opinion, looking at the reflection on the dyed pearl feels like looking at a low-resolution video. Also, I think good-quality dyed edison's overtone can look a bit "wrong" as it seems to float on the surface instead of coming from the inside, as pearl's body colors and overtones come from countless layers of nacre. Also freshwater pearls don't come with dark blackish body color.
(1st picture to last: 1. dyed freshies (non-nucleated) - 2. (probably) dyed nucleated "edison" pearls - 3. dyed nucleated "edison" pearls)
1.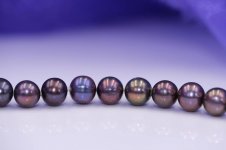 2.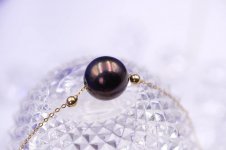 3.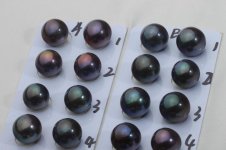 And of course, there are some difficult cases. The first is dyed golden edison. I have only seen them on photos, and I could not see those "dark spots" that are typical on dark dyed pearls. Then there's metallic baroque edison pearls, which many vendors in Vietnam suspect that they were dyed instead of natural. I can argue that there are not many "metallic-dyed" edison on the market, it is hard to get those metallic luster right and the dyed surface can be spotted. However, the more I look at them, the harder it is to tell if they have been dyed or not, as the bands of colors especially on baroque ones are really random and seems to be "floating" on the surface like good-quality dyed edison. Also since the colors of those metallic ones tend to be lighter, maybe it will make it harder to tell the "dark spots"? Lastly, I found two pictures of edison pearls which confused the heck outta me as I cannot tell at all if they were dyed or not. One is a metallic black edison pearl someone bought from Pearl Paradise and a pair of highly lustrous golden edison pearl I found on Pearlescence's blog. Can you guys tell me if these were dyed or natural colors? Especially the dark ones, if it was undyed it will challenge everything I know about freshwater pearls which I wrote in the 2nd paragraph.
(1st picture to last: 4. dyed golden edison, 5. (?) golden edison from Pearlescence, 6. natural metallic pearls, 7. (probably natural) metallic chinese pearls, 8. (probably dyed) metallic rippled chinese pearl, 9. black metallic edison from PP, 10. dyed black edison, 11. dyed black edison )
4.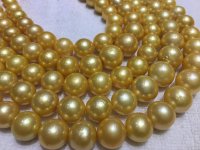 5.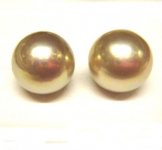 6.

7.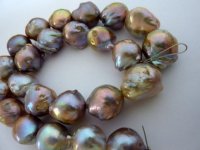 8.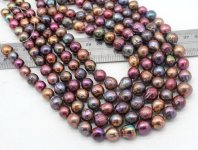 9.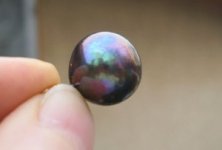 10.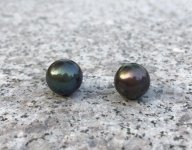 11.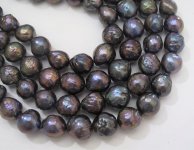 So overall my question is, how exactly do you tell Edison and South Sea pearls apart? How do you tell if that lustrous golden pearl is SS or dyed edison or natural edison (if they really come in gold)? How do you tell dyed metallic pearls from natural metallic ones, especially those with rippled surface and "pond slime" overtone (ex: Kasumi pearls).
Sorry if this post sounds like a big mess and I hope you guys find this helpful.
(ps: I accidentally attached the last image. I think they are mixed of dyed and natural?)