Joined

May 26, 2014
Messages

1,840
Just call me curious, okay?
I was looking for some cheap gold clasps and of course, I like vintage so I end up browsing on the great bay of E. I do searches for gold clasps and see a very cheap 14k gold ball clasped shell pearl necklace for $.99 plus $4.99 shipping. The thought that there is no way this seller can afford to sell a necklace for that price using real gold comes into my head, and what do I think? I pushed the bid button! For $6 I don't have much to lose and might get a nice golden clasp out of it!
I got my shell necklace the other day and finally got around to acid testing it. The clasp itself was the usual solid ball clasp and stamped 14K. I tested a few other gold items at the same time. These photos are the results of tonight's testing.
A similar listing by the same seller, using the same picture, same price, etc...
http://www.ebay.com/itm/AAA-10mm-ye...231249?hash=item58d4dacd51:g:oTIAAOSwyQtVk1hL
My first indication that the clasp might not be gold was trying to scratch it. It was very difficult to get color onto the stone. After the gold scratch disappeared immediately upon applying the 14k tester acid (the far two scratches closest to the edge that have a red tint), I tried the 10k acid test, which lasted a little longer, but started disappearing. I then dipped the clasp in a drop of acid and got a nice chemical reaction with bubbling, color changing and hiss.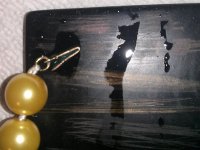 Here is the 14k marked clasp bubbling with 10k testing acid.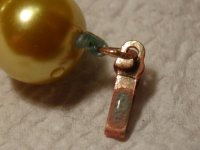 The ball of the clasp that hasn't been tested with the V part that has: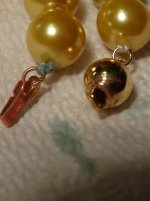 And the 14K clasp that hasn't changed color next to the drop of acid on a paper towel and the fake 14k gold clasp: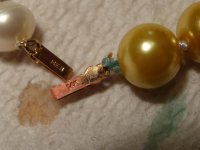 I have not contacted the seller yet and want to make sure I present the facts correctly. Would you say the metal underneath is brass? It is not magnetic. I am going to demand a full refund and report it to ebay as a fake, as well figure out how to leave feedback before I get banned from their list.