Jewellery Theater participated in the Couture Show for the first time in 2015. I was astonished and utterly seduced by their amazing jewelry. Founded in Moscow in 1998, they immediately gained recognition by winning the Tahitian Pearl Trophy at Baselworld-2002. Today they have boutiques in London, Marbella, Dubai, Baden-Baden and Cyprus.
There is no question that Jewellery Theater defines luxury, from the simple to the simply-encrusted. You will need to visit their website to see what I mean. Be sure to allow yourself plenty of time, because it's very much like visiting a gallery of artwork.
At Couture, their pearl jewelry was monochromatic, but magnificent, as evidenced in these two Caravaggio pendants.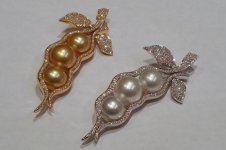 A world of gem color can be found below...
www.jewellerytheatre.com
Enjoy!
Blaire Beavers
Managing Editor
Pearl Guide News