Joined

Mar 16, 2017
Messages

234
Pattye- It's thanks to your suggestions that I was able to sit in the seminars, and was able to hear Elizabeth Strack.
It is amazing to put faces on the usernames!! Today was Judi, Jersey Pearl, and Gemgeek! They were really kind with me, even though I am actually shy and awkward in person.
Those golden Keshi!!! Pattye, Pearl Dreams, MSC- I wish I had photographed them better! I have a couple more pictures. They were so deep, I could probably enjoy looking at them for a long time. lol.
It had hurt me a little bit to walk away from them, but they were outside my pearl budget... or rather I had gem/pearl plans with what I had with me. (sigh) I may go back and see if it's still there. If it is I may lose my will and buy them.
MSC- Are you in Tucson?! If you are, I'd like to bump into you! Steven and I drive up there for the shows, I believe we're going to check pueblo Gem Show, then GJX afterwards.
I found the strand in the GJX show, but the vendor has another booth in the Pueblo Gem Show (Riverpark Inn.). I'm hoping he'll have more in that location....
Here's a couple more pictures, I tried cropping it so it shows better?


Some Tahitian Keshi I saw today!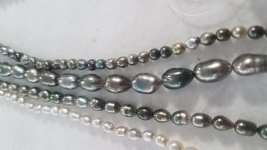 I saw this Pearl'n Purse at JOGS.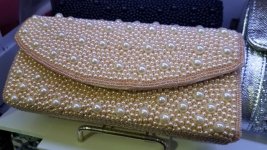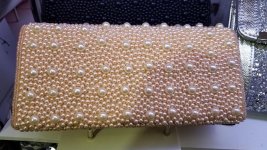 Oh I went back to grab this beautiful SOC Mabe pair. Can't wait to make earrings out of them, Still pondering whether I'll do a ring or a pendant with the bigger one. My pictures don't capture all of its beauty.