Joined

May 24, 2012
Messages

343
I picked these up in PP's last promotion. Gold is basically my favorite color, so I was drawn to these akoyas, not so dark as some South Sea pearls (which I would love to invest in one day but not quite there yet) but distinctly tinted. These are 7.5mm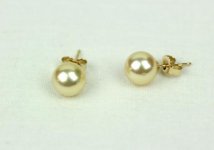 There is a slightly green cast to the gold tint, which I wasn't sure about at first but looks nice on (will show you some time). Honestly I have a bit of a green cast myself.
I also wanted to show you my current method of storing studs (I love when people inadvertently reveal their storage methods when sharing - I'm so interested in these kinds of details), which I like so much in terms of keeping everything accessible (easy to both take out and put away) and on display. This is a velvet ring display box. Buttons on the top row, mostly rounds in the middle. This is a mix of higher and lower quality, and I wear them all - it just depends on what I'm going for.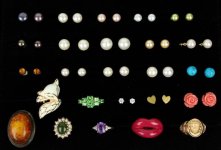 Would love to hear other ideas on how to store studs!
Last edited: