Joined

Aug 8, 2009
Messages

1,776
What could be more fun than a little adventure to Pearl Paradise to see the newest Tahitians. It is like a siren call to me hearing a big box of Tahitian strands have just arrived. I remember seeing the blog post when they were bought.
http://blog.pearlparadise.com/2016/05/itsy-bitsy-teeny-weeny-little-pearls-from-tahiti/
My mind started dreaming of another Tahitian strand. I made a list of what colors I have and there was not many holes to fill. I remembered seeing on the blog post "many white" and I was sunk because a white Tahitian strand is one color I did not have. I told my good friend Kay I was off to PP on Friday. She being a good pearl friend cleared her schedule to go with me. A PM to Imgarden resulted in her agreeing to meet us there too.
Before I can leave I have to decide what pearls to wear and what to bring to compare with what I am looking for. Don't want to repeat
or maybe I do? They day before pictures go back and forth and these were what I decided to bring. My silvers mainly to remind me I already had several of those strands.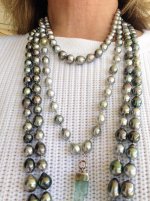 Then Kay asked me to bring my white south sea tin cup so I add that to my neck.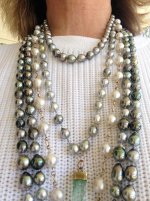 I really had no intention to wear all of them at once. Where else can you pile on the pearls and not worry you might be over doing it than a visit to the best vault in town? Pearl Paradise of course