Another year, and another stunning array of jewels from the JCK Jeweler's Choice Awards! For some Friday "Eye Candy" I thought I'd showcase the winning pearl designs (and there are some doozies!). Enjoy!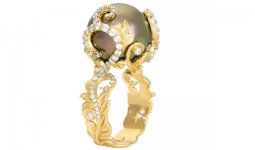 Maui Divers took home a prize in Best Ring Designs with this 18K Yellow Gold and Diamond-accented Tahitian Pearl Ring. This gorgeously colored black pearl features intense Peacock overtones, and is an impressive 16.0mm in size. It's rare to find one so large and colorful!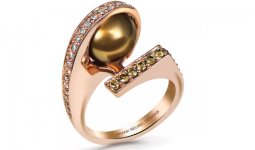 Frank Reubel Designs won for Pearl Jewelry Under $2,500. The Rose Gold "Overpass" ring design features a sparkling assortment of white and cocoa-colored diamonds wrapped over and around a Chocolate Tahitian pearl measuring 10.0-11.0mm.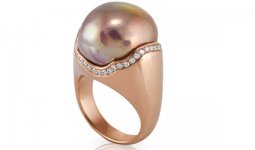 I really love this one - it's a Jorge Adeler design featuring red gold and a stunning free-form Lavender Freshwater baroque pearl as its crowning glory. Wow. Winner Pearl Jewelry Category: $2,500-$10,000.00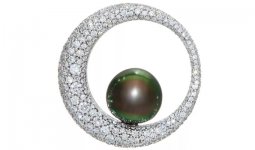 So, I actually participated in the voting this year which was actually pretty fun (but I wish they'd have offered multiple views of the submissions and had WAY bigger pictures to use when picking out favorites - but that's another story ...). I totally voted for this Maui Divers Tahitian Pearl and Diamond Pendant, and it won! You're welcome, Maui, lol. Just kidding! Congratulations are due though for a seriously to-die-for design! Winner Diamond Jewelry Category, $2,501-$10,000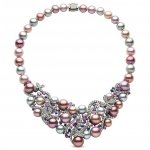 Yoko London scored another victory (and they so deserve to - I die a little with envy every time I see one of their necklaces!) for pearls and proving that Freshwater pearl jewelry can be amazingly sophisticated, a little bit wild and uncompromisingly luxurious. This masterpiece features their "Radiant Orchid" Lavender Freshwater pearls, 10.0-13.0mm, blue Tahitians 10.0-13.0mm, Sapphires, Diamonds and Amethysts set in 18K Black Gold. Winner Pearl Jewelry Over $10,000 Category.
Just for fun, here are their 2014 and 2015 winning submissions (because yes, I love them that much!):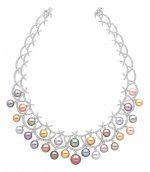 Carnevale, Yoko London. Winner 2014 JCK Jeweler's Choice Awards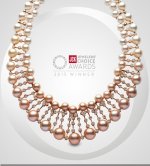 Queen Pearl, Yoko London. Winner 2015 Jeweler's Choice Awards.
I was a little bit perplexed that I didn't see (or maybe I just can't remember, who knows?) anything from Autore submitted for Pearls this year - did I miss something? And I was definitely bummed that I didn't see Little h's amazing Tahitian and Black Diamond Cufflinks picked - I upvoted Hisano every chance I got!
Anyways, hope you guys all enjoy a little Friday Eye Candy!
All photos courtesy of JCK Magazine and jckonline.com