Hi everyone,
I've been a lurker on PG for a few months and have finally created an account to post. A couple of months ago, I saw a picture of Angeline Jolie with her signature large pearls and was absolutely wow-ed! Been lusting after a pair since
I've been stalking Pearl Paradise and other sites recommended by users here, but was put off by the shipping and return fees if I don't like the item, additionally customs duties for returned are a pain. So I found an online seller who told me that she imports them from Myanmar (her GSS/WSS pearls). She was pretty serious about her business - registered it, had invoices with her business's name etc - so I took the plunge.
Would love to hear your opinion on them! What grade do you think they are? Did I pay a fair price? etc.
I found her prices comparable to Pearl Paradise's on discount. Other than the grade of the pearls, which I can't judge, PP would have better tested quality assurance, much more variety in colours, but I really wanted to touch and feel them before committing any money. Will have to wait till I get the chance to go to the states to check out PP!
TIA!
#1 Tahitian Pearls Studs, 12.6mm, Dark Grey with blue-green body
The first pearls I wanted were Tahitian! I prefer the lighter colored strands, with colourful overtones and iridescence. Unfortunately, my seller only carries dark coloured pearls – apparently very few other customers like the light coloured ones – and I settled for these ones.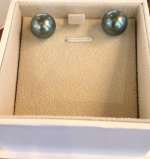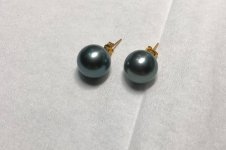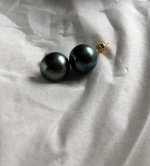 As you can see, the other (smaller) pair I was considering seems to have sharper luster, but it a lot darker. Most, if not all of her pearls don't seem have overtones and iridescence. I would love a two-tone/ colour graduated pearl.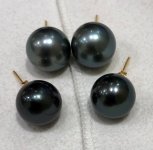 They are very clean; I can pick out roughly 2 to 3 blemishes per pearl if I scrutinize them, and one of them has a deep blemish near the drill hole.
I went to a fancy jeweller later and approximate that this pair is about at least 1? 2? grades below gem grade?
#2 White South Sea Pearl Pendant, 11.85 x 11.45 mm, Cream White with rose/pink tone?
I was looking through her WSS studs and pendants when this caught my eye! It was A LOT more lustrous than anything else. Irl there's a very strong pink tone that makes me almost afraid it's a FWP?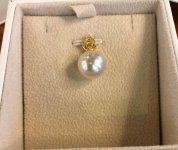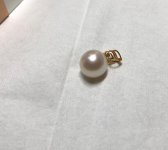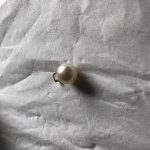 See it beside the silver-white WSS pendant I was also considering. It's a shade sharper.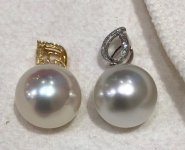 Reminds me a lot of this PP pendant (with chain) that I was lusting for:
https://www.pearlparadise.com/products/110-120-mm-white-south-sea-pearl-and-garnet-diamond-pendant
#3 Golden South Sea Pearl Studs, 11.2mm, Light gold
This is the purchase that I'm the least happy with. Irl it's a lighter colour than the pictures, and there's a noticeable lack of luster. Additionally these are the most expensive, and the seller used to sell larger ones of higher luster (they are all listed at the same AAA grade though) at incrementally higher prices to this pair (she said prices have gone up in the past few months).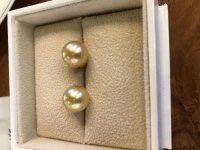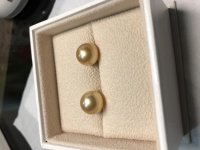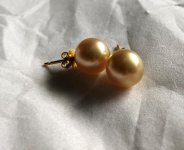 One of the pearls has very light blemishing, but the other has ~5 moderate to light blemishes.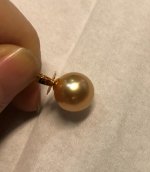 I know it can't really be compared, but looking at posts like this from Greenhills (
https://www.pearl-guide.com/forum/showthread.php?9642-Earrings-from-Greenhills
) and the Pearl City Market (
https://www.pearl-guide.com/forum/showthread.php?8045-Golden-south-sea-pearl
) make me really really jealous!!!
In general, do also let me know your thoughts on the grades vis-à-vis PP and official standards? I am considering more purchases (sister's birthday is round the corner).
As for the seller, her business is registered locally and she gave out certificates from AGGL (Asia Glory Gemmological Lab of Myanmar, which says it's a member of London-based Gem-A). Wrt consumer protection I think I'm pretty well-protected by local laws if the pearls turn out to be of a different type (though it doesn't seem so)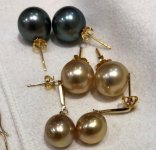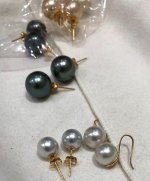 Last edited: