Joined

Oct 29, 2013
Messages

5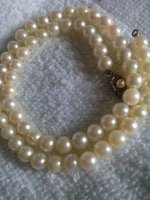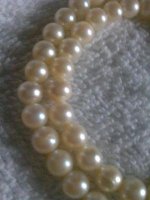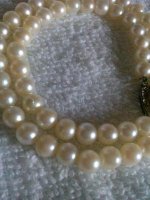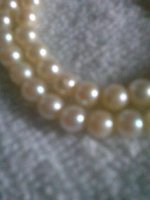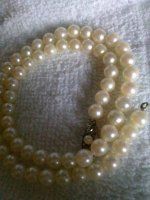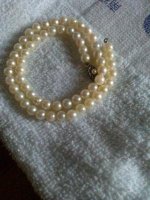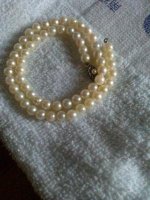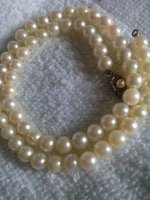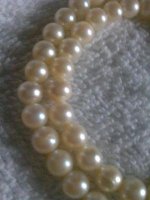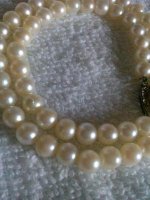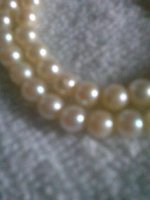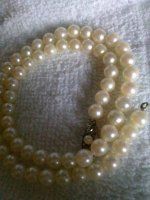 Hi all I am trying to establish with more clarity some history, grade, or any other info as I am unable to find any! The only provinance I have is some conversation with my mother who is 93 and Japanese. My father was in the navy and was stationed in Japan, he met my mother in 1954 I think? give or take a couple of years either way! My mother swears by it, that my dad and her went to "the Factory" as my mom says, of Mikimoto and purchased this string of pearls, she goes on to say that the longer strands were too expensive for them at the time, so my dad opted for this shorter choker type strand. I wore them at my wedding in the 90's and I remember as a child seeing the box? cant find the box now. I can just barely see a little mark at the end of the clasp but cant make it out, and the center is marked silver, it looks like a miki clasp. I also read an article that older miki that are from Japan do not have knots, and this has no knots. There is also one pearl that has a partial hole drilled next to the used hole? I would just like to know any more information if anyone can offer it. There are 60 pearls and they kinda glow, if that makes sense,
they are not all exact in size but are roughly 7mm. Any ideas greatly appreciated, I tried to candle them? there are only a few that I can see lines in, are they natural or cultured? Sorry, I'm by far not a pearl expert hence all the questions!
Thank you so much for any information that anyone can give me!
Mel
Last edited: