Joined

Apr 13, 2016
Messages

68
These are my first pearls, purchased recently from Kojima pearls. I have always admired and loved pearls, but needed to educate myself and this forum has been a total Godsend! Between PearlGuide and Pricescope, it made me more comfortable making my purchase through an online retailer that has been vouched for by the community. As promised to other forum members, here are some neck shots. It has been uncommonly overcast/rainy this past weekend and I'd been trying to take the pics in better lighting but I was getting a bit impatient. The photos are taken by a window, natural light, completely cloudy day.
The first item is the Grace rope. It is a mixture of FWP, SoC, Tahitians, SSG and Akoyas and measures 54".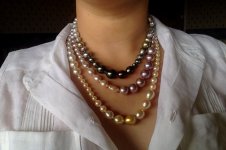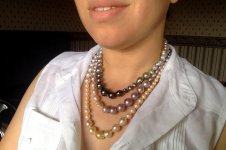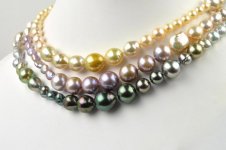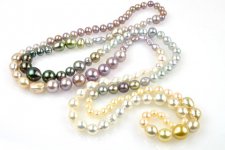 Second Item is the falling leaves earrings, with gold south sea baroques and green stones [which type I completely forgot]. I am getting my ears pierced this week, hence why the earring does not look put on right. They shine quite a bit in the sun and are not too heavy.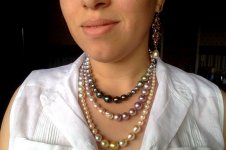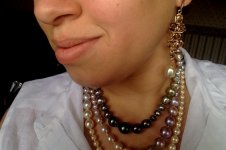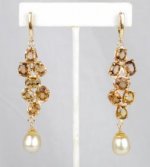 I will be wearing the earrings for my wedding, but still considering if I should wear the necklace as well, the dress is a champagne color, sweetheart neckline. It should be arriving tomorrow.
Any suggestions and or inputs are more than welcome, especially as to which specific type of pearl in the picture looks better with my skin tone [for future purchases =) !]