Joined

Apr 19, 2015
Messages

47
Howdy all,
Long time no post! I have been a little busy because I had twins in July but I have been keeping up with my pearl habit, much to my husband's chagrin (don't you already have those pearls??? lol. How many times have I heard that. Also it's really easy to browse ebay while you're breastfeeding fyi/tmi lol)
Anyway one of my tricky bits of business is trolling around on various auction sites and finding things that I think might be undervalued and flipping them so I can better support my pearl habit (I CAN QUIT ANYTIME!!)
So I found this brooch which was posted as a part of a lot, and without any photos of makers/assay marks, and I took a chance. I thought it looked like vintage Mikimoto, and I still do. HOWEVER, it has a marking of K14 and k.t in a lozenge instead of where I had assumed I would find an M in a clamshell! Humph!
I'm not *super* upset about it, it's still karat gold and it's FLOSSY...there are 23 pearls on this bad boy (girl) and it's karat gold. Plus the design is pretty cool, swirly and a little like the classic styles of brooch Mikimoto was making back in the 50s/60s.
Reasons I thought it was mikimoto include the K14 marking (vs 14k, and the font looks the same to me) and looking at it next to another miki brooch I have, the pearls look VERY similar (not so much compared to other vintage akoya, I can post photos but I would have to go rummage around in my jewelry and hubs is sleeping so....gotta do that tomorrow.) Also like I mentioned the design is very miki like.
Reasons I don't are obviously the hallmark and looking at the back of it, I haven't seen miki brooches that use a setting with a pearl set ON a little circle (vs on a stick or however you call that) before but obviously I am no expert.
Pearls and gold both check out (I acid test anything I spend over 50 bucks on just bc I have been burned so many times...argh.)
It's really hard to find anything on google about a makers mark of "k.t" for obvious reasons (kt = k.t...with jewelry all you're getting are kt listings...not helpful lol) so do any of you know 1. if mikimoto ever used a K.t marking (I know there are things signed k.mikimoto and I know that there was a period of time after the war supposedly where it wasn't very in vogue/accepted to have Japanese items around) and 2. do you know of any OTHER pearl manufacturers/makers who may have used this mark?
Like almost everything else I buy, I am a little on the fence about selling this because I like it so much. I make a terrible businesswoman with these sorts of things lol. I can sell the tin cups all day but things like these I find a lot more difficult to part with. Oh well.
Oh and for a bit more context the largest pearl is 7mm and the remainder are 3 different sizes: 6mm, 5mm and 4mm.
Thanks and can't wait to see what I have missed out on in the last year or so!!!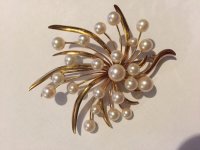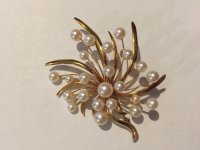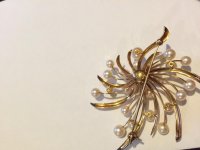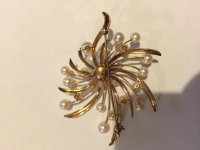 This last one is supersized so you can see the actual marks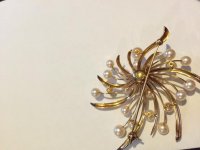 Last edited: