More Famous Pearls from History
This short list of some of the world's most famous naturals pearls is a continuation from page one.
Charles I Pearl
A famous pearl, now lost, destroyed, or hidden away by a discreet collector, was that of King Charles I. Artist Anthony van Dyck (1599-1641) painted several portraits of the king, many of which show a large drop pearl hanging from his left ear. In the portrait,
Charles I, King of England, from Three Angles
, 1636, which is now on display at the Windsor Castle in the UK, a clear representation of this great pearl is visible.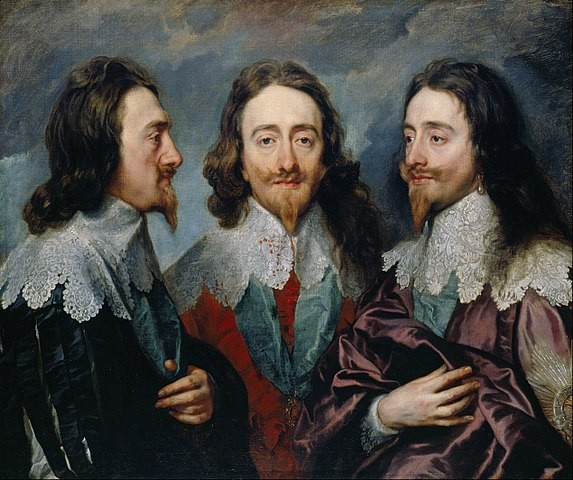 King Charles I was executed in 1649 and as the pearl was so greatly coveted, it was said that as soon as his head had fallen from his body, a horde of witnesses surged forward to steal the prized gem.
Charles II Pearl
Like his predecessor, King Charles I, King Charles II possessed a remarkable pearl. Reported as remarkably similar to "La Peregrina", The Charles II pearl was given to the monarch by Don Pedro de Aponte, Conde del Palmar, a native of the Canary Islands.
This amazing pearl, which weighed more than 130 grains, was found in 1861 (more than 100 years after the similar La Peregrina) and is reported to have been destroyed in a fire in 1734, a short-lived reign of such a regal pearl.
The Jomon Pearl
The Jomon pearl is the oldest known pearl in the world. This pearl dates back more than 5,500 years and is named after a period in Japanese history called the Jomon era, from 10,000-300BC. Although there are no written records of this era, dating has been deduced through the many artifacts (such as the Jomon Pearl) recovered at the site where it was found.
Gresham Pearl
A pearl whose fame was garnered in no less than its destruction for Queen Elizabeth was known as "The Gresham Pearl". During the reign of Queen Elizabeth, the merchant prince known as Thomas Gresham was known to possess a large natural pearl valued at BP 15,000. In a toast to his queen and to astonish the Spanish ambassador, it is said that Sir Thomas Gresham crushed the pearl and drank it in a glass of wine. This was done to win a wager with the Spaniards to prove that he could provide a costlier feast to for the queen. As history does not give us a full description of this pearl, the valuation is excessive when compared with other pearls of the period. This story is strikingly similar to that of Cleopatra and Marc Anthony.
"La Peregrina" (Spanish: The Pilgrim)
Known once as the Phillip II pearl, "La Peregina", (not to be confused with "La Pellegrina") was once the most celebrated pearl of its time. Weighing a large 203.8
grains
, La Peregrina was celebrated not only for its great size, but also its perfect pear shape, and bright white coloration.
La Peregrina was found off the coast of Panama in the 16th century and was promptly delivered to King Phillip II of Spain who presented the gem to his new bride, Queen Mary of Spain. The gem later belonged to Queen Margaret as well as Joseph Bonaparte before the British Marquis of Abercorn acquired it.
In 1969, La Peregrina was purchased by actor Richard Burton for a mere $37,000, as a gift for his wife, Elizabeth Taylor. Elizabeth Taylor, a pearl lover, and a catalyst of Tahitian pearl popularity owned La Peregrina until her death in 2011. La Peregrina was auctioned in 2012 and sold for a record-breaking value of nearly $12 million American dollars.
"La Pellegrina" (The Incomparable)
The published history of the "La Pellegrina" pearl does not discount the claims of the French that the pearl was originally part of the French crown jewels. The historical records of La Pellegrina simply state a description of the pearl similar to that of
La Reine des Perles
, and states that the saltwater pearl was found off the coast of South America. Once a part of the Spanish crown jewels, "La Pellegrina" was brought to Russia from India in the 18th century and was known as the "Zozima Pearl". As the true stories of
La Reine des Perles
and La Pellegrina will probably never be proven, this will continue to be a mystery of pearl history.
La Pellegrina disappeared for several years, quietly tucked away by a collector, only to resurface and to be auctioned off at Christie's auction house in 1987. The pearl sold at auction for $463,800 dollars.
La Reine des Perles
This large round pearl of a reported 27.5 carats was once a part of the French crown jewels. It was listed in the royal jewel inventory in 1791 for an astonishing 200,000 francs. It had been purchased for 40,000 livres from a gem dealer in 1761. The listed description of the pearl describes it as a "virgin pearl, perfect, round, and of fine
water
." The majority of the French crown jewels were stolen from the Garde-Meuble in 1792, and the thieves also made away with a pearl, many of which believe was "La Reine des Perles". It is also believed that this pearl made its way into the possession of the Zozima Brothers (jewelers of the Czar of Russia), who promptly renamed the gem "La Pellegrina".
Related Articles and Forum Threads:
Last edited by a moderator: