Joined

Dec 29, 2020
Messages

263
My recent purchase of a lovely WSS drop shows something I've never seen: There seems to be a flat surface near the tip of the drop, virtually dividing the pearl into two parts that reflect light differently. When I look at the surface around the "cutting disc" carefully, I can see some very fine crease under the outermost transparent layers of nacre. Peeking from the hole, I can see the nacre is very thick.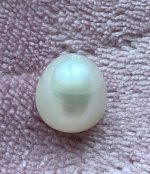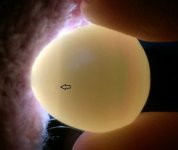 The pearl is beautiful but I am worried about this fracture-like "cutting disc". What do you think it is? Is it natural or a damage? Will this pearl last? I tend to keep this pearl and make it into a pendant for myself but I need to take these worries off my head first.
Any opinions would be very much appreciated.
Would be glad to take as many pictures as needed from certain angles or light conditions.