John Tu?s Pearls
If you have read my photo story about the GemFaire, you already know my main pearl vendor is John Tu of Taiko Imports. For those of you who are not in the business of pearls, buying pearls is fun and also a challenge. The more pearls you see and handle, the better you become at weeding out the best pearls. I?m one of the little guys, but I?ve bought thousands of dollars of pearls. Finding great pearls is addicting.
The GemFaire is a midsize tradeshow that travels from city to city, mostly on the West Coast. My biggest challenge at the GemFaire is the wholesale pre-opening of the show. This is an hour and a half period where you are competing with other wholesale buyers for the best goods. Speedy judgment is essential or someone else may snatch up all of the best pearls!
John Tu doesn?t have a website or a fancy operation. He?s just a great guy who sells pearls. He?s been in this business for 18 years. As fast as things change with pearls, that?s a lifetime!
Although he carries Akoya, South Sea, and Tahitian cultured pearls, the bulk of his inventory is in fancy varieties of Chinese Freshwaters. These range from inexpensive beading pearls to the finest quality keshi. I wanted to share photos of his pearls because they represent the wide range coming out of China and also because they are different from a lot of the pearls you?ll see online ? ?round and white? are definitely in the minority.
Let?s go virtual-shopping together!
First, here is my friend John. Behind him you can see my prime shopping grounds ? the wall of pearls. He?s showing off some of his seed pearls.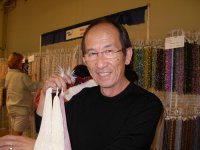 Let?s take a closer look?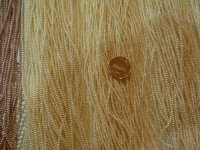 Can you believe how tiny they are? I met a woman who had a lovely multi-strand necklace of seed pearls with intermittently spaced tiny multi-color sapphire briolettes. There must be a zillion things you could do with tiny pearls!
Now for the closeup view?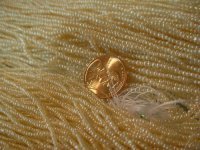 The FTC says that only natural pearls can be called seed pearls. So these are really tiny freshwater cultured pearls, although there isn?t a difference that can be discerned from a test because these are not nucleated, or ?activated?.
Can you imagine having to tie knots between these? No one is that patient, except maybe our own Knotty Panda.
I mentioned the wall of pearls. That?s usually the first place I head for when the show opens. I?ll show you some of the simple pearls first.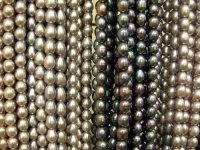 These dyed silvers are so much fun. The shape and surface quality vary from hank to hank. Within hanks you?ll also find some variation, so you have to compare them carefully if you are combining pearls into a longer strand.
Most of John?s pearls are naturally colored, like these buttons.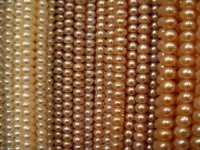 Small button strands look good with a flat side, almost like rows of gleaming corn. Good buttons in larger sizes should be gently curved on both ends.
It takes time to find perfect strands without any flat spots. Even if you are brand-new to pearl appreciation, you?ve probably noticed that a lot of baroque pearls have a flat side.
There isn?t a lot of space in a mussel and many pearls end up developing a flat area against the inside of the shell. The law of pearl economics is round = rare = high cost. If you don?t mind some flat spots, you can get a great deal on pearls. The key is making sure that the nacre coverage is just as good on the flat part. John has a lot of fun dyed pearls, some as low as a dollar a strand.
I?ll be posting this in several installments, so please wait until the end to post replies.