Joined

Aug 30, 2012
Messages

408
An article of 2010 Recently re-posted in The Western Australian.
article by
Cathy O'Leary, Medical Editor
.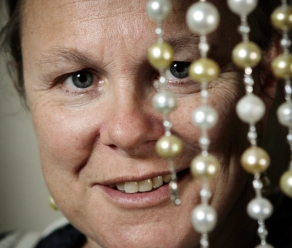 WA burns expert Fiona Wood is well-known for her signature strands of pearls but now she is part of a group of scientists hoping to harness a by-product of the gemstones to help regrow skin and nerves.
Professor Wood, the pioneer of spray-on skin technology for burns patients, is part of a University of WA research team which is adapting pearl nacre, also known as mother of pearl, for a new field of bio-nanotechnology.
Nacre is essentially a waste product of the pearling industry which lines the inside of the shell, producing lustre and iridescence, but also providing a material that is both lightweight and strong.
Researchers plan to use tiny particles of the crystalline substance to act as scaffolds for cells to fix onto and grow. They hope it could one day even help patients with spinal and head injuries.
Dr Wood said the team would first try to understand how the pearl shell could be manipulated to provide surfaces suitable for cell growth.
"We are always looking to improve the tissue protection and regeneration systems we use, from dressings to scaffolds," she said.
"This is an unexplored area which is exciting to investigate."
The team has secured funding for the project for the next three years from a company, Pearl Technology, and the Australian Research Council.
Neuroscientist Sarah Dunlop said the team was considering using pearl nacre in cosmetics to help fund further research into tissue regeneration, initially on skin after burn injuries to prevent scarring and regain function.
Professor Dunlop's work centres on finding ways to regenerate human nerve fibres so that victims of neurotrauma such as head or spinal injury can feel and walk again. That could now include using pearl nacre nanoparticles as a platform for this nerve regeneration.
Centre for Strategic Nano-fabrication director Colin Raston, who is leading the pearl project, said the team believed nanotechnology had the potential to solve major health challenges of the 21st century. "We've only been going on this project for a month and a half so it's early days but we're looking at a whole range of possible applications, including skin regeneration," Professor Raston said.
"We're really trying to drill down and understand the science."
also here
.
PROFESSOR Fiona Wood is part of a scientific group investigating the potential of pearl nacre to help burn victims and neurotrauma patients.
Pearl nacre from the shell of the pearl, often referred to as mother of pearl, is comprised of calcium carbonate like the pearl itself but structurally differs in the way there is separation between the microscopic brick-like particles.
This not only gives the pearl shell its glow but could also provide an avenue to mimic the structure in order and build 'scaffolds' to regenerate damaged nerve and skin tissue.
Along with several UWA scientists, Professor Wood is using biomimickry to investigate which organic compounds mixed with non-organic compounds could make a scaffold that may be manipulated to be used for cell growth.
Prof Wood says tissue engineering is all about trying to work out how cells grow in different environments in order to replicate the process.
"Pearl nacre has actually been used for centuries, especially in Eastern medicine," she says.
"There has always been interest in what there is in traditional medicines and herbal medicine that we can understand and investigate so we can replicate."
Prof Wood says project leader and director of UWA's Centre for Strategic Nano-fabrication Winthrop Professor Colin Raston came upon the idea quite "serendipitously".
"Prof Raston had been talking with a pearl group because nacre is a waste product of the pearling industry," she says.
"We had already been discussing 'chitosan' [from crustaceans] and then Prof Raston suggested pearl nacre may be a useful thing to explore as a scaffold for skin, bone and other tissue."
Prof Raston and Dr Swaminatha Iyer are exploring nacre on the scale of nanotechnology.
This involves understanding and mimicking the growth of the structures that form the pearl shell.
"The configuration of chemicals can be changed when you start to look at different scales, so nanotechnology is the area of understanding how, in that very small scale, the properties change," Prof Wood says.
"And this is not just the chemical properties but the actual physical and electrical properties.
"So we ask whether we can use this knowledge to encourage cells to grow and differentiate."
Prof Wood says the current applications for skin regeneration are mostly dependent on collagen and hydroxylapatite from coral.
"But to my knowledge there are no current investigations into the potential of pearl nacre for this use," she says.
"It is a very unique project."
Professor Charles Bond is also providing expertise from UWA's Biomedical Biomolecular and Chemical Sciences.
Neuroscientist in Animal Biology Professor Sarah Dunlop is hoping to apply the research in regenerating human nerve fibres so victims of neurotrauma, such as head or spinal cord injury, can feel again.
The cylinder-like nacre particles may also be used in cosmetics or controlled drug delivery.
Last edited: