Hello everybody!
Some weeks ago, looking at the beautiful tahitian pearls purchased from Wen on Etsy by our poster Germandpearlover, I decided to try and buy some tahitians from this seller too. Mine are less expensive and not round as hers, but they are really nice. Please give me your opinion too!
I had already purchased some pearls from Wen, but never tahitians. I hope the nacre is thick, that's the only doubt I may have. I tried to make some pictures of the pearl holes and to zoom them on my computer. It seems good, but it's impossible to measure it.
I didn't choose every single pearl as our friend did, but I purchased a multicolor drop-shaped graduated strand from 8,3 to 10.8mm. For the moment I added a simple golden 925% silver clasp, but I will upgrade to a solid gold clasp as soon as I find a nice one.
I also made a pair of matching earrings with six pearl I had in storage. I purchased the pearls from Ehret on ebay, and I addes golden silver leverbacks (these will be upgraded too):
This is the picture Wen made: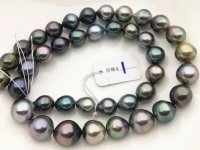 These are the pictures i made (sorry, as always my pictures are not so good):