Joined

May 20, 2017
Messages

303
Ellow!
I have this greyish blue stone and purple stones given by my mum plus I have this pinkish ripple pearls and big tahitian pearls. So I would like to make a dangle earring out of it. The plan is...the tops will be gold diamond huggies and cascading down with the stones and pearls. The model kinda look like this pic I found on the net.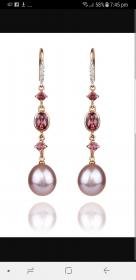 I would like an opinion on the arrangement of the color and stone pearls position. Which one is the best??
1. Blue stone, purple stone, pink pearl than last black pearl.
2. Purple stone, blue stone, pink pearl than black pearl.
3. Blue stone, pink pearl, purple stone, black pearl.
4. Purple stone, pink pearl, blue stone, black pearl.
Or maybe...even 5. upside down like from big to small?? That would be different.
So what do you think??? Or maybe different combo? Im going to the jeweller next week sooo please help me....thanks!